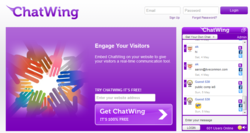 Houston, TX (PRWEB) July 23, 2012
According to global statistics, there are a lot of new health bloggers in the Blogspot community. With this fact, the Chatwing team has made a strategic move by launching a chat widget capable of global communication. The team's goal is to help health bloggers in Blogspot connect to large groups of people. The Chatwing chat app has also been introduced in other blogging communities such as Wordpress and Livejournal. Many people have also used the chat tool for various online purposes.
One of the key factors that have made the Chatwing chat box reliable is its easy installation mechanism. Now, the Chatwing chat tool can be installed by embedding the HTML code to the user's blog or website. There are no complicated commands needed. Chatwing has also the potential to turn the blog into an active chatting lounge. Health bloggers can use this small chatroom to interact with his visitors and answer their health-related questions. The chatbox can also be used for backlink generation, as users can post links to their blogs and websites.
For many months now, the Chatwing team has been reaching out to many online sectors. Because of Chatwing's overall versatility, many people have been using the application in the relative fields of online marketing and social entrepreneurship. To deal with such influx of users, the Chatwing dev team has been making platform tweaks. This is also to ensure that the free chat box will maintain its connection speed in the long run.
As part of the team's dedication, maintenance checks will be scheduled for a long stretch of time. This will eliminate technical glitches and make Chatwing's free chatbox as reliable as ever. Currently, the dev and research team is also maintaining a blog and Facebook page that is filled with useful information and content. Chatwing's Facebook marketing campaign is also intensive and time-wise.
About Chatwing.com
Chatwing.com has developed live chat software for websites and blogs. It caters to different online communities due to its high rate of connectivity. Everyone can create a customizable live free shout box feature in 1 minute or less. Users have the ability to customize the size, color, and fonts of the chat product. The ability to chat via social media accounts such as Facebook and Twitter enable Chatwing to offer a personal and unique real-time experience to all sites. Chatwing is very easy to use.