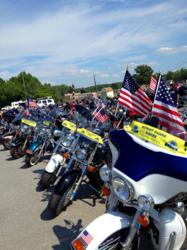 Eden, NY (PRWEB) July 21, 2012
The Traveling Vietnam Memorial Wall was escorted by over 500 motorcycles on Wednesday July 18th, 2012 and the Made In America Store was there to greet and thank the veterans. Over 500 different motorcycles showed up to help escort the Vietnam Memorial Wall into Eden, New York, at the American Legion Post 880.
The motorcycle run kicked off a five day event in which the Vietnam Memorial Wall will be on display. The unveiling of the wall is scheduled for the 19th of July and people can pay their respect until Sunday, July 22nd.
At the entrance of the American Legion Post 880, the Made In America Store passed out handheld American flags, which were 100% American made, to anyone who wished to wave a flag in support of the motorcyclists and the Vietnam Memorial Wall.
Interested in seeing the photos from the patriotic event? Click here to visit our Facebook page and see the event that greeted the Traveling Vietnam Memorial Wall with over 500 motorcycles.
The Vietnam Memorial Wall is a smaller duplicate of the original Vietnam Memorial Wall from Washington D.C. and gives individuals a chance to see the wall without having to travel a far distance.
The Made in America Store has devoted to Military personnel since their opening in April of 2010. Veterans and active duty members that visit the store in Elma, New York, or visit the website at http://www.MadeInAmericaStore.com get a 10% discount on their entire order, every day. Along with the military discount, the Made In America Store has hosted multiple events for the public in the name of our war heroes.
The Made In America Store is located at 900 Maple Road in Elma, New York and is committed to selling 100% American manufactured products. You can visit http://www.MadeInAmericaStore.com for more information or shop our catalog of over 3,500 products from over 290 vendors that are devoted to producing USA made products. All US military personnel, both active duty and veterans, receive a discount every day. Consumers can also keep up to date news articles, events, photos and contests with Facebook, Twitter, Google+, Pinterest and Tumblr!