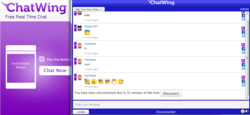 San Francisco, CA (PRWEB) July 23, 2012
Chatwing, a widget development company, is now branching out to the Moonfruit community. The company does this by introducing a chat widget that can help bloggers in Moonfruit connect to large groups of people. Basically, Chatwing empowers the premise of web communication with the help of its chat app. Many people have benefited from the Chatwing application because of the communication leverage that it can offer. Chatwing also utilizes the power of social media.
Moonfruit has always been a reliable website builder. This is based on the numbers of users relying on this application. The Chatwing chatbox is entirely compatible with this website builder, bringing waves of visibility for any blog or website. Some professional bloggers in the Moonfruit community have started using the Chatwing chat application for their blogs. Most of them use the Chatwing tool for marketing purposes and customer service extensions.
Few months ago, Chatwing's free chat box has been introduced in other prominent blogging communities such as Wordpress and Typepad. These communities have strong visibilities, strengthening Chatwing's reliability in terms of web communication. In the latest Chatwing chat tool, people can now communicate efficiently because of cute avatar displays and emoticons. A single Chatwing chatroom can also accommodate up to 600 users in real time. Chatwing admins can also set word filters to ensure that the chatroom remains as decent as possible. This conversation control feature has benefited a lot of bloggers.
The Chatwing team is always dedicated in developing the free chat widget and introducing them to many people. To deal with large influx of people, the Chatwing dev team is always ready to upgrade the chat platform. In this way, Chatwing's overall speed can be maintained, despite the fact that it generates thousands of signups per day. Chatwing's free shoutbox has also been used in the intensive field of social media marketing.
About Chatwing.com
Chatwing.com specializes in the new field of website chat. Over years, the Chatwing team has introduced live chat box for hundreds and thousands of blogs. The Chatwing application bridges people from many parts of the world, creating global synergy through the Internet. The shout box can be installed in just seconds, and it can be used for varying purposes such as leisure and Internet marketing. It also allows a user to customize the size, color, and name of the widget. Chatwing is 100% free for everyone.