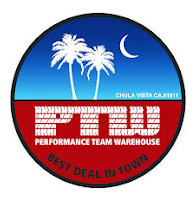 In honor of the 2012 London Summer Olympics, Kumho Tires is offering a $50 rebate with the purchase of 4 qualifying tires
Chula Vista, CA (PRWEB) July 20, 2012
Performance Team Warehouse is Chula Vista's leader in quality, affordable automotive service work and tires. With such brands available as Michelin, BFGoodrich, Goodyear, Cooper, Uniroyal, and Kumo, Performance Team Warehouse makes finding the right product and unbeatable deals faster and easier than ever. Specializing in nitrogen, tune-ups tire balancing, repairs, maintenance and more, the highly trained technicians provide quality service and great customer experiences.
Summer is a great time to shop for the best deals on new tires with Performance Team Warehouse, and through August 31, 2012, customers can save 10% by buying their tires with a package deal, an unbeatable offer. In honor of the 2012 London Summer Olympics, Kumho Tires is offering a $50 rebate with the purchase of 4 qualifying tires. These deals are on top of Performance Team Warehouse's already low prices and huge tire inventory.
Performance Team Warehouse can be found providing tires Chula Vista, California, and online at 4tires4wheels.com. Customers can access great deals on their website 24 hours a day, 7 days a week, where coupons and rebates can be printed from home. The website also offers customers the choice of purchasing their tires from home by searching their inventory by year, make, model, and option, or by brand or special offers. Performance Team Warehouse provides easy access to request a quote, or even schedule an appointment from home. For more information on great deals, products, car care tips and more, log on to 4tires4wheels.com or stop into Performance Team Warehouse today!
About Performance Tire Warehouse: Performance Team Warehouse carries the lowest discount tires in Chula Vista, California, and provides top quality automotive service and repairs. The highly skilled technicians strive to address all customer concerns for safety, speed, choice, value and expertise- on top of excellent value and service.
Performance Tire Warehouse is "What a Tire Experience Should Be".
4tires4wheels.com was built and powered by Tire Company Solutions (TCS), the complete tire software solution company, located at 500s. Walnut Ave. Cookeville, Tennessee. For contact information, visit their website at http://TCStire.com