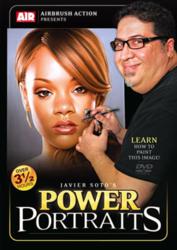 "Javier Soto is a wonderful teacher, who works very well with all types of artists."
Allenwood, NJ (PRWEB) July 23, 2012
Power Portraits, the long-awaited DVD from master portrait artist Javier Soto, is now available. "Javier is an amazing artist—one of the best talents around," says Cliff Stieglitz, Airbrush Action magazine publisher and producer of the DVD. "He can do it all and we're proud to showcase his unique talents and techniques for our audience of artists."
In addition to being an excellent artist with "a brilliant use of color," Stieglitz explained, Javier is also "a wonderful teacher." In an easy-to-understand, step-by-step format, this DVD brings out the best of Javier Soto, said Stieglitz. "He's a very serious artist who also makes things interesting and fun."
Soto, lead instructor of the Power Portraits class at the esteemed Airbrush Getaway workshops, has more than 25 years of portrait panting experience. A New Jersey native, Soto is also known to Airbrush Action magazine readers for his signature paintings of killer clowns. Some keys to high-end portraiture, as Soto covers in the Power Portraits DVD, is "to train your eye to draw what you see, not what you know" and developing the ability "to get in the zone" for great portrait painting.
The 3 hour, 30 minute DVD includes step-by-step instruction on color theory, how to render facial features, flesh tones, troubleshooting problems such as paint settling, hot spots, blowouts, tip dry, pigment migration, puddling, and spidering, how to use an electric eraser, fiber pen, and razor knife for highlighting and detailing, how to render skin pores, the nuances of rendering teeth and hair, working with cool and warm colors, how to evaluate the progress of your painting, use of the Artograph LED digital projector, use of Wicked Colors, and much more.
You'll also learn:

How to reduce paint
How to use complimentary colors
How to test colors
How to build tones
How to render facial features
Flesh tones
How to render natural looking texture
How to avoid blue shift and even use it to your advantage
How to modulate color intensity
How to establish middle tones
How to work with cool and warm colors
The importance of testing color
Use of freehand shields
Freehand airbrushing
Use of dagger strokes
How to render shadows
Tinting
How to render amazing eyes
How to correct for excessive contrast
Power Portraits DVD retails for $29.95 and is available through http://www.airbrushaction.com, http://www.chicagoairbrush.com and many other airbrush and art supply outlets.
About Airbrush Action Magazine:
Founded by Cliff Stieglitz in 1985, Airbrush Action magazine is the longest publishing airbrush magazine in world history. Distributed internationally through Barnes & Noble, Books-A-Million, 7-Eleven, all military branches, and many other mainstream outlets, Airbrush Action is edited for airbrush enthusiasts and art professionals. It covers all popular applications of airbrushing, including body art, automotive custom painting, T-shirt airbrushing, tattoo art, pin-up art, hobby/model uses, illustration, fine art, and more. For more information, visit Airbrush Action magazine.
For more information, contact Cliff Stieglitz, Airbrush Action magazine publisher, at 732-223-7878 or ceo(at)airbrushaction(dot)com.