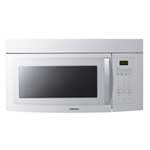 Atlanta, Georgia (PRWEB) July 23, 2012
Editors from 10rate spent some time researching and trying out some of the least expensive but effective discounted microwaves on the market and rated them based on the following criteria: adequate capacity, convenient one-touch cooking options, easy-to-use controls, and reliable, durable construction. The following microwaves, both countertop and over-the-range models, have their share of great qualities, and the most expensive selection is roughly $250.
The annual Top 10 best budget microwaves awards list was topped by the Frigidaire FFCE2238LB winning the top quality spot and a 9 rating. The review noted several strengths of the maker including the following excerpt, "With intuitive, easy-to-navigate controls, this Frigidaire countertop model offers various cooking options with one-touch buttons. Frozen foods defrost quickly and easily. An LED screen clearly displays the cook setting. I find the button console pleasantly simple, clean, and uncluttered to match the overall glossy, polished feel of the microwave."
Another of the best cheap microwave selections to make the list was a GE microwave, model number JVM1750DP, which editors noted is strong in many areas such as the following:
"Instant 1-to-6 minute heat buttons
Turntable on/off option
Add 30 seconds feature
Sensor cooking options for popcorn, potato, beverage, vegetables, and reheat
4 levels for sound control
2 positions for wire cooking rack
Programmable night light"
Next, the best discount microwave to win the budget award from the top 10 list was the Frigidaire FFCE1439LW. Notations from the review of this maker comment, "Electronic touch controls make programming cooking options refreshingly straightforward. With 1,100 watts powering the microwave, food gets heated quickly and uniformly."
Frigidaire microwaves won three of the top awards in the top 10 list.
10rate.com conducts reviews in various product and services categories and publishes "Expert Top 10 Lists for Everything in your life." The company's web site strives to "Make it Easy" to select from the hundreds of choices there are in the product and service market place. All products and services are thoroughly researched by the companies expert editors prior to receiving a rating on a 1-10 scale. In addition to product reviews the companies editors write guidelines, buying guides and articles on various topics surrounding each product or service category covered to help educate the consumer.