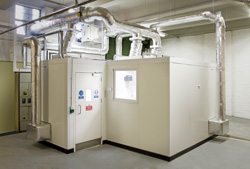 Companies that are providing solutions for the control of microorganisms in large public buildings would get ahead of the market by being able to prove that their technology destroys microorganisms and prevents them from re-circulating
Dublin, Ireland (PRWEB UK) 23 July 2012
airmid healthgroup today has announced that it has designed and installed a modified ASHRAE 52.2 duct in a series loop with an ANSI/AHAM type Environmental Test Chamber which allows for the assessment of in-duct or portable air purifying systems on bio-particulates.
This testing system has relevance to a wide variety of manufacturers of products aimed at purifying indoor air including air cleaners, HVAC filters, and in-duct disinfection technologies such as UV or photo-catalytic oxidation.
Bio-particulates and airborne pathogens that can be measured encompass viral particles, bacteria, fungi/moulds, as well as allergens such as house dust mite, various pollens, animal dander e.g. cat/dog and particular toxins. Measurement is undertaken by use of the most sophisticated immunoassay and molecular biological techniques.
The quality of the data generated is further enhanced by the fact that the particular samples being introduced are represented by known quantities of real household dusts, together with known levels of viral, bacterial and fungal organisms. They would also include known levels of particulates of sizes that range from those greater than 10 microns down to sub-micron and even those associated with nanoparticles.
Air can be re-circulated through the chamber and back into the ducting system on a repeated basis with a range of fresh air flow dilution rates, all of which contributes to replicating what is happening in real homes and offices. The level of bio-particulates can then be measured in the test duct or in the environmental chamber. This data would be particularly valuable for a company producing a technology designed to control microorganisms in air is being introduced into an indoor space through a ducting network, such as in a hospital, nursing home, aeroplane, office building or department store.
Dr Angela Southey, Head of the Environmental Test Chambers at airmid healthgroup, said that "Companies that are providing solutions for the control of microorganisms in large public buildings would get ahead of the market by being able to prove that their technology destroys microorganisms and prevents them from re-circulating".
In the case that air cleaning devices are designed for placement in the room itself, the bio-particulates can be introduced into the chamber directly or through the ducting with an option to re-circulate the air.
Over recent years, airmid healthgroup (AHG) has become a market leader in aerobiology and the assessment of airborne bio-particulate load in indoor spaces. Unique services are provided to clients in both state-of-the-art large scale chambers or in "field" situations, i.e. environmental studies in homes, offices, and other places where individuals congregate.
Many of the studies performed by AHG have led to a complete re-evaluation of product performance and service intervention impacts. Often, results have been pivotal in driving design improvements. Not alone has AHG performed the studies but it has also brought the conclusions to the attention of the medical/scientific community through a variety of routes.
airmid will be organising a series of seminars with manufacturers on topics related to legislation and indoor air pollution and how this new testing system will contribute to their R and D processes.