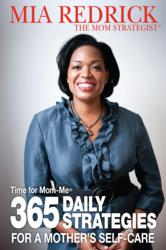 Baltimore, MD (PRWEB) July 22, 2012
The brand new book in the bestselling 'Time For Mom-Me' series is out now with 365 essential daily self-care strategies for busy moms. Penned by The Mom Strategist, Mia Redrick, the inspirational 'Time for Mom-Me: 365 Daily Strategies for a Mother's Self-Care' is packed full of practical tools, bite sized tips and thought-provoking reflective questions to help moms nurture their own passions, become better moms and happier people - all in just 15 minutes a day.
For the 58.8% of moms who admitted that their only usual opportunity for 'me' time is late at night or early in the morning in a new survey published this week by mom.me, the book shows how self-care can be incorporated throughout the day rather than squeezed into spaces when everyone else is asleep.
A must have manual for moms who devote their time and energy to everything and everyone else, Time For Mom-Me is small enough to fit in a purse but large enough to deliver a huge daily hit of encouragement and wellness. It promises to help mothers everywhere to find time for their own needs, self-connect and assign meaning to their lives, helping make dreams become a reality. The book provides practical tips and tools to help women with already full schedules to start their own journey towards better self-care while balancing family responsibilities.
The debate about whether or not women can have it all may be the subject of heated discussion elsewhere but The Mom Strategist's latest book leaves no doubt that it IS possible to successfully juggle the role of being a mom with the pursuit of personal dreams and ambitions.
Author Mia Redrick says, "Whether we are stay-at-home, work-at-home, professionals, homeschooling or business owner mothers, self-care is an essential component of motherhood. Our families rely on us each day to make the best decisions, to love them and to provide for their overall wellness and health. How can we give our best if we haven't learned to apply our best to ourselves? 'Time for Mom-Me: 365 Daily Strategies for A Mother's Self-Care' helps moms day by day and step by step to build self-care rituals."
'Time for Mom-Me: 365 Daily Strategies for a Mother's Self-Care' shows readers how to expand their strengths and strengthen their weaknesses. It encourages women to uncover daily opportunities to enhance their emotional, physical and spiritual wellness while discovering that parenting is easier when you give from a full cup. Moms will also learn how to identify and ask for the help that they need through simple daily exercises and will be able to keep a record of what works well each day.
Each page in the book acts as a roadmap, giving the reader five items to help on the journey to successful self-care: a word of the day, a self-care strategy of the day, an action plan for the day, a question of the day and a list of the day. The tasks are backed by a PDF-based worksheet available from the accompanying website. The pages can be filled in and stored online from a laptop, tablet or PC or printed and saved in a journal or binder, providing a map of the journey taken and a record of the program as it's completed.
Ms. Redrick added, "Make no mistake, women can have it all. And by taking the time to incorporate self-care rituals into our days, we learn the value of nurturing and taking care of ourselves and how this in turn makes us better mothers. After years of coaching moms and creating Time for Mom-Me self-care groups around the country, I decided to write this book because so many mothers have asked me how to create a self-care routine that is sustainable."
Time for Mom-Me: 365 Daily Strategies for A Mother's Self-Care is available now in paperback from Amazon, Barnes & Noble and all good book stores. It is priced at $19.99.
Buy online now at http://www.barnesandnoble.com/w/time-for-mom-me-mia-redrick/1111725626?ean=9780979627316 and
http://www.amazon.com/Time-Mom-Me-Strategies-Mothers-Self-care/dp/0979627311/ref=sr_1_3?ie=UTF8&qid=1342801141&sr=8-3&keywords=mia+redrick
For more information about the Time For Mom-Me Series and Mia Redrick visit http://www.themomsacademy.com/sp/10287-365-strategies-the-book
Follow Mia on Twitter @Mia_Redrick or search Time For Mom Me on Facebook.
Reviews For 365 Daily Strategies For A Mother's Self Care:
"I've been a fan of Mia Redrick for a long time. She understands the daily challenges every mom faces, and balances her insights in a no-nonsense approach. 365 Daily Strategies for a Mother's Self-Care gives busy moms practical, bite-sized tips and exercises that add up to a sustainable self-care routine that can help us all become better moms and happier women." Megan Calhoun, Founder & CEO of SocialMoms.com
"Mia Redrick's book, 365 Daily Strategies for a Mother's Self Care is a must read for all moms. As women, we are so busy doing for everyone else that we put ourselves last. This book does a wonderful job of inspiring and guiding a woman to take active care of herself. Mia's suggestions delivered in daily, bite size pieces over the course of a year are perfect for the busy mom. The reader will learn how to excel in all areas as she goes about the business of life. This book is the perfect shower gift for every new mom! The seasoned mothers also benefit from the wisdom within 365 Daily Strategies; we all need reinforcement on how to manage our various roles in life. Mia Redrick remains the go to expert on self-care and has out done herself with this book! I highly recommend it." Joyce Bone, CEO and founder of Joyce Bone Enterprises
Notes to Editors: Issued by Dakota Digital. Copies of 'Time for Mom-Me: 365 Daily Strategies for a Mother's Self-Care' are available for media review. Please direct requests to Rebecca(at)dakotadigital(dot)co(dot)uk or call 866-226-2607.
-Ends-