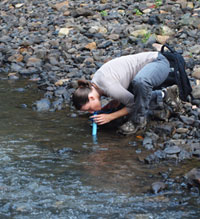 "The LifeStraw is great for many applications, from emergency situations to keeping you safe while you're out traveling," says Greg Boyce, COO of One Stop Green.
Houston, Texas (PRWEB) July 20, 2012
One Stop Green now carries the LifeStraw, a revolutionary personal water filter that allows anyone to drink water from nearly any water source. The LifeStraw is ideal for homeowners during emergencies, including contaminated drinking water, as well as travelers and hikers who might need to drink from rivers or lakes.
The LifeStraw is compact and lightweight, which makes it perfect for many applications. The LifeStraw filters out 99.9999% of waterborne bacteria, 99.9% of waterborne protozoan parasites. The filter has a capacity to clean over 250 gallons of water before it needs to be replaced, ensuring that everyone will have access to clean and safe water.
The LifeStraw was developed to assist in achieving the United Nations' Millenium Development Goals for clean drinking water. Since 2005, the LifeStraw has been used in developing countries. The LifeStraw eliminates water contaminants, including E. coli, Giardia, and Cryptosporidium oocysts, preventing illnesses all over the world and providing clean, fresh water.
One Stop Green, LLC facilitates environmentally friendly improvements to residential and commercial properties through distribution of green, energy efficient products and services. They offer every product needed for sustainable energy independence enabling homeowners, businesses and commercial property owners to master their usage by reducing waste and implementing efficient energy consumption methods. Their goal is to provide user friendly and practical long-term solutions to existing inefficiencies and their carefully selected products and professional installers offer a higher level of satisfaction and service for their customers.
Contact:
Nathan Kaufman
http://www.OneStopGreen.com
P: 877.449.9110|O: 713.541.2739|C: 210.846.5900