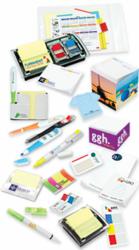 Rapid City, SD (PRWEB) July 24, 2012
Baslercoinc is now offering a unique option that allows customers to print on both sides of their custom printed Post-it® Note Pads or Cubes. 2-sided printing can be used for any number of reasons including allowing customers to expand their copy or add disclaimers to product information.
The 2-sided printing option from Baslercoinc is popular for discount coupons, manufacturing, date specific events, disclaimers or copy required by government regulations as well as any number of business specific requirements. Second side printing is now available on most pad and cube sizes from Baslercoinc's standard product line.
Second side printing allows customers to have multiple colors on both sides of their Post-it® Note sheets as long as the total number of colors does not exceed six colors. With increased demand for unique marketing ideas, second side printing is a rapidly growing segment of our custom printed Post-it® Note sales. "With ever increasing government regulations, 2-sided printing is great for companies who have a lot of copy, such as product disclaimers, to put on one piece of paper" says Eric Graves, National Sales Manager at Baslercoinc. For more information about second side printing, give us a call at (800) 888-8309 or visit us online at http://www.baslercoinc.com
Baslercoinc is always working hard to come up with new and unique marketing ideas. Second side printing is just one of the many options offered for custom printed Post-it® Note pads and cubes.
Baslercoinc products include regular and die-cut pads, cubes, flags, pens, highlighters, organizers and dispensers. Baslercoinc also provides a variety of unique options such as custom top sheet printing, alternating copy (rotating throughout the pad), second side printing, quick response on large quantity orders and custom sizes. To review additional products, visit us at http://www.baslercoinc.com/