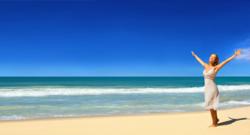 Panama City Beach, Fl (PRWEB) July 22, 2012
Located in Northwest Florida, Panama City Beach features 27 miles of beautiful white sandy beaches, warm, emerald waters and an endless list of activities both in and out of the Gulf. Throw in 320 days of sunshine a year and 74 degree temperatures on most days and you have the perfect conditions for a fun filled vacation. This summer discover Panama City beaches world class activities from scuba diving and checking out historic shipwrecks, building sand castles and salt water fishing to enjoying the exciting nightlife venues. Best of all, you'll find amazing vacation rental properties offered by owner for the area that put you within easy access to everything Panama City Beach has to offer.
Following are some of the most popular things to do in Panama City Beach that are guaranteed to thrill any beach loving vacation seeker.
It's All About the Beaches!
With 27 miles of award winning, pristine, white sandy shoreline along the emerald green waters of St. Andrews Bay and the Gulf of Mexico, Panama City Beach, Florida offers the perfect vacation experience. These award winning sugary white beaches are ideal for relaxing, playing with the kids, enjoying eco-excursions and water sports, outdoor concerts or simply working on a tan.
Fantastic Diving/Snorkeling Experiences
Panama City Beach diving is at its best between April and September and the warm Gulf waters are home to sea life like bottlenose dolphins, manta rays, sea turtles, octopus, blue marlin, sand dollars and more. Adventure seekers will love checking out the ancient ship wrecks that are scattered throughout the area and the artificial and natural reefs filled with exotic underwater creatures, including colorful sponges and coral. One of the most popular places for snorkeling close to shore can be found at St. Andrews Park, Panama City Beach.
St. Andrews Park
St. Andrews Park has it all when it comes to water sport activities including kayaking, canoeing, swimming, scuba diving, snorkeling and fishing. Hikers will love exploring the park via 2 nature trails, checking out scenic beauty and enjoying the wide selection of flora and fauna. The park also offers a picnic pavilion, concessions, camping and miles of beautiful beaches perfect for soaking up the sun. Another popular pastime at St. Andrews Park is bike riding along its 2 miles of paved road or taking a shuttle boat tour to Shell Island. http://www.pcbvisitorguide.com/pcbvisitorguide/activities_in_panama_city_beach
Gulf World Marine Park
Bring the family to the Gulf World Marine Park for a memorable marine adventure including the once in a lifetime experience of swimming with dolphins! The park also offers exciting daily shows that include special guests like rough tooth and bottleneck dolphins, sea lions, reptiles, birds and even magic and scuba diving shows. The park also hosts a variety of seasonal concerts and events that are fun for people of all ages.
Golfing
Ready to go for that elusive "hole in one" under the warm Panama beach sun, or work on your putting on the flawlessly manicured greens? Golf lover's flock to Panama City to hone their skills on courses that have been highly rated by Golf Digest who have also counted Panama City Beach as in the top 3 of America's best golf destinations. The golf courses here are known for their gorgeous settings, challenging holes and of course the golf friendly weather conditions.
Beach Sports Plus More
For all those sports enthusiasts out there Panama City Beach won't disappoint. The Frank Brown Park takes up over 200 acres and offers something for everyone including playgrounds, fishing, indoor gyms, a variety of ball fields, tennis and basketball courts, picnic areas and more. The park also includes the Aquatic center with a water playground and Olympic sized swimming pool - Great fun for kids and adults alike.
Retail Therapy
The Panama City Beach area is packed with unique shopping venues including trendy boutiques, open air malls across from the Gulf, and lots of fun shopping experiences in Pier Park. Shops range from popular retail stores to local beach wear and souvenir shops and include an eclectic assortment of restaurants and cafe's where you can enjoy a pastry, cup of coffee or lunch along the way.
Beach Restaurants
Panama City has been called "Seafood Capital of the World" and there isn't dish they don't specialize in when it comes to anything relating to "fresh seafood". The area is famous for specialties that include island inspired cuisine, fresh sushi, incredible ethnic cuisine and all of Florida's favorite seafood specialties. Additional dining options include delicious Italian fare and top quality steaks and all can be enjoyed in a variety of setting from casual beach front restaurants to secluded romantic settings.
World Class Spas - Panama City Beach has them.
Take the gorgeous beaches and waterfront activities of Panama City Beach and combine it with world class spas and what do you get? Vacation Perfection! Panama City Beach is filled with an extensive variety of spas that are all about pampering and relaxation with services that include aromatherapy, a vast array of massage treatments, facials, hair care, mani-pedi's and more.
Endless Nightlife Venues
The party really gets started in Panama City when the sun sets with an fantastic variety of some of the best nightlife choices in Florida including trendy dance clubs, , wine beach bars, tiki lounges, karaoke hot spots, jazz venues and more.
Panama City Vacation Rentals and Private Home Rentals
Panama City Beach is brimming with private vacation rentals http://www.pcbvacation.com/vacation-rentals/show-all-vacation-rentals that provide the perfect setting for a beach lover's paradise along with all the comforts of home that along with the location create the perfect getaway experience. In most cases by owner vacation rental properties often provide more living space and amenities as well as outstanding value that are above and beyond most hotels and motels. Private Vacation rentals vary from spacious homes to beachfront resort condos and include amenities like private pools or hot tubs, fully stocked kitchens, dining and living rooms, washer and dryer, DVD and CD players, plenty of family space and more. An example would be the Dunes of Panama vacation rental condos, located right on the beach at 7205 Thomas Drive.
From Panama City's perfect weather, world class beaches and outdoor activities to luxury spas, vibrant nightlife venues and local festivals, what more could anyone possibly ask for in a vacation?
Start your search for Panama City Beach vacation rentals today - See by owner condominiums and beach houses for rental at http://www.pcbvacation.com