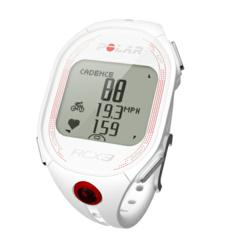 No other GPS watch is as small, light, or designed to fit a woman's wrist
Bozeman, MT (PRWEB) July 21, 2012
The Polar RCX3 GPS for women has been voted best GPS watch for women for 2012 by the Heart Rate Watch Company.
"No other GPS watch is as small, light, or designed to fit a woman's wrist and the feedback we are receiving is that they like this option very much" says Rusty Squire, President of the Heart Rate Watch Company. He adds, "All the other watches with integrated batteries like Timex and Garmin are just too big and too heavy for many women but the Polar RCX3 GPS has solved the issue with a 2 ounce external sensor and clip that fits right on running shorts or in jersey pockets".
The standard GPS watch weighs close to 3 ounces while the Polar RCX3 weighs a mere 1.3 ounces, less than half, and this makes a big difference for many women.
"While the RCX3 is not equipped with all of the more advanced interval training and race pace features of the Polar RCX5, it does have a better fit for women and gets good pacing and mapping data", says Squire. He adds. "A lot of women will give up a few advanced features for a better fit and lighter weight as long as they receive solid basic data".
The Polar RCX3 was just released in June and already Dee Yarington has been testing it and likes the fit according to her husband, and chief Heart Rate Watch Company tester, John Yarington.
For running, cycling, hiking, skiing and other outdoor sports the Polar RCX3 GPS for women is ideal for providing heart rate, calorie, speed, distance and post-exercise mapping data. Unlike the Polar RCX5, it is not a swimming watch but the Polar RCX5 has no real true women's version.