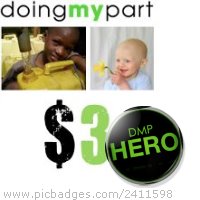 If we can all get involved, we can be a part of something bigger than ourselves
Charlotte, North Carolina (PRWEB) July 23, 2012
Co-Founders Mike Spencer and Josh Delaney founded Doing My Part(DMP) with the idea to raise funds for non-profit organizations through an online website. With a social philanthropic platform set up online, Spencer and Delaney also utilize DoingMyPart.com to keep current donors, also known as DMP Heroes, informed about the details of the organization's grassroots efforts at the time. Recently, DMP announced the details and goals for its most current project that includes teaming up with the North Carolina Salvation Army to provide shoes, socks, and mentoring services to homeless youth in Charlotte, North Carolina on August 11, 2012.
For each project that Doing My Part fundraises for, it sets specific goals necessary to fulfill the needs of a particular non-profit organization at the time. For its August 11 event, the organization recently announced online that it is setting out to provide shoes, socks, and other humanitarian services to 207 homeless children. In order to provide the necessary materials, organizers hope to enlist the help of 436 additional DMP Heroes. These additional DMP Heroes will join other Heroes in contributing $3 per month towards DMP's non-profit fundraising efforts. "Every single person counts, if we can all get involved, we can be a part of something bigger than ourselves," explains Spencer.
In founding Doing My Part with the idea of creating an easy and practical process for individuals to help others, Spencer and Delaney also sought to provide an easy way for Heroes to see the fruits of their efforts. In addition to using its website to list the details of the project's progress leading up to the August 11 event, DMP also plans to film the event live and upload the recorded videos to the website. Current and future heroes will be able to see volunteers distributing materials and providing services to Charlotte's homeless youth. With their efforts, the co-founders not only make it easy for donors to provide funds but they also provide a level of transparency not always seen in non-profit fundraising.
About
Doing My Part is a non-profit organization with the mission of "transforming the way the world gives back." Doing My Part gives anyone the chance to become a Hero through a minimal $3 automatic monthly donation. To see more information visit the website, go to the Facebook page or see the previous press release here.
Porsche Farr
PorscheTiaPR, Founder & President
http://www.PorscheTiaPR.com
###