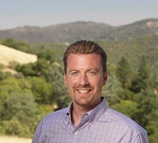 Our experience and devotion to helping our customers save money while achieving energy efficiencies is unsurpassed.
San Jose, CA (PRWEB) July 24, 2012
Real Goods Solar recently named Fresno native Erin Clark as its new Vice President and General Manager of the Real Goods Solar Northern California and Colorado offices.
Much has changed over the past 12 years for Mr. Clark. In 2005, ready for a new challenge and teeming with ambition, he sold his share of his family-owned landscaping business. He identified solar as a growing industry that would flourish in the Central Valley, so he headed to the Bay Area where he immersed himself and learned the solar industry from end to end. At the end of four months, Mr. Clark packed his bags and brought his new passion and skills back to Fresno where he opened a two-man solar office and worked as a jack-of-all-trades: solar installer, home show spokesperson, sales manager, operations manager and janitor. You name it, he did it.
His role in the solar industry has evolved greatly over the years. Today Mr. Clark manages the sales, marketing and operations for four of the six Real Goods Solar Western offices, including Fresno, San Jose, San Rafael and Denver.
It's fitting that one of Clark's responsibilities is with the office he founded. Perhaps even more gratifying is that the Fresno office is the largest residential Real Goods Solar office in the country.
"The Central Valley is perfect for solar," said Clark. "Typically people can afford bigger homes in the Central Valley. That, coupled with a greater need for air conditioning and high utility costs, makes solar such a successful industry in Fresno."
Being promoted from his former role as Vice President of Operations to his current role as Vice President and General Manager, Mr. Clark's vision is simple: To provide the highest quality product and provide excellent customer service in all of the local communities he serves.
"Customers can buy solar panels anywhere. They only get the Real Goods experience from us. Our history, longevity and commitment to the community set us apart. Our experience and devotion to helping our customers save money while achieving energy efficiencies is unsurpassed," Clark said.
ABOUT REAL GOODS SOLAR
Real Goods Solar is a leading solar energy integrator, having installed more than 12,000 electric systems for both residential and commercial properties. Real Goods Solar offers turnkey solar energy solutions, and has 34 years of experience in solar energy, beginning with its sale of the first solar photovoltaic panels in the United States in 1978. With offices nationwide, Real Goods Solar is one of the largest residential solar installers in the Central Valley and the United States. For more information, visit RealGoodsSolar.com.