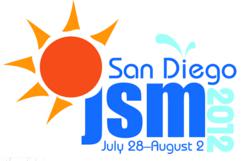 Alexandria, VA (PRWEB) July 24, 2012
More than 250 California academicians and industry and government leaders are among the Californians who will participate in the American Statistical Association's Joint Statistical Meetings, the world's largest annual gathering of statisticians, at the San Diego Convention Center July 28—August 2. Those appearing on panels or in individual sessions include the California Secretary of State and representatives of colleges and universities statewide. In addition, some 700 statisticians from the state are registered to attend the conference.
[Note to editors: Members of the media are invited to participate in any or all of the sessions at JSM. For registration call Rosanne Desmone at 703.946.3820 or register online at http://www.amstat.org/meetings/jsm/2012/pressregistration.cfm .
California Secretary of State Jennie Bretschneider will be a panelist in a session titled, "The Will of the People and the Luck of the Draw: Using Statistics to Limit the Risk of Wrong Electoral Outcomes," on Monday, July 30, from 10:30 am to 12:20 pm, in room 31B of the convention center. Also on the panel are the following Californians: Neal Kelley, Orange County Registrar of Voters, and Pamela Smith, Verified Voting Foundation.
Dr. Dan Steinberg, CEO of San Diego-based Salford Systems, and David Smith, VP of marketing, Revolution Analytics, Palo Alto, will join other prominent data mining software leaders on a panel to discuss the Big Data issues in data mining and predictive analytics. Other panelists are Dean Abbott of Abbott Analytics (moderator); Daniel Fylstra, founder and president of Frontline Systems; Ralf Klinkenberg, co-founder and chief business development officer of Rapid-I; Peter C. Bruce, Statistics.com (organizer); Thomas Hill, VP, Analytic Solutions at Statsoft, Tulsa, OK; and Wayne Thompson, Analytics Product Manager, SAS Institute, Cary, NC. The session will be held Wednesday, Aug. 1, 2–3:50 p.m. in room Sapphire D of the Hilton San Diego Bayfront, adjacent to the convention center.
James E. Enstrom of UCLA and Robert F. Phalen of UC Irvine, along with representatives of the National Institute of Statistical Sciences (NISS) will present during a session titled, "Are Fine Particulates Killing Californians?" This session will take place on Wednesday, August 1, 2—3:50 pm, in room Sapphire A of the Hilton San Diego Bayfront Hotel.
Speakers from Google, Yahoo! and Facebook will participate in several sessions.
Academicians from the following institutions also will present at the conference: California Institute of Technology, California Polytechnic State University, California State University (CSU), CSU East Bay, CSU Fullerton, CSU Long Beach, CSU Sacramento, Menlo College, San Diego State University, Stanford University, University of California Berkeley, UC Davis, UC Davis School of Medicine, UCLA, UC Riverside, UC San Diego, UC San Francisco, UC Santa Barbara, and UC Santa Cruz.
Complete information for the 2012 JSM sessions is available in the online program at http://www.amstat.org/meetings/jsm/2012/onlineprogram/index.cfm. You can search by name, affiliation or keyword to get titles and descriptions of each individual's presentation.
About the Joint Statistical Meetings
JSM, which has been held annually since 1974, is conducted jointly with the American
Statistical Association (ASA), the International Biometric Society (ENAR and WNAR), the
Institute of Mathematical Statistics (IMS), the Statistical Society of Canada (SSC), the
International Chinese Statistical Association, and the International Indian Statistical Association.
JSM activities include oral presentations, panel sessions, poster presentations, continuing education courses, exhibit hall (with state-of-the-art statistical products and opportunities), career placement service, society and section business meetings, committee meetings, social activities, and networking opportunities. JSM is open to members of ASA, SSC, ENAR/WNAR, and IMS, as well as non-members and has special pricing for students, seniors, K-12 teachers, and also offers one-day registrations. Complete JSM information is available at http://www.amstat.org/meetings/jsm/2012/.
About the American Statistical Association
Headquartered in Alexandria, Virginia, the American Statistical Association is the world's largest community of statisticians and the second oldest continuously operating professional society in the United States. For more than 170 years, the ASA has supported excellence in the development, application, and dissemination of statistical science through meetings, publications, membership services, education, accreditation, and advocacy. Its members serve in industry, government, and academia in more than 90 countries, advancing research and promoting sound statistical practice to inform public policy and improve human welfare. For additional information about the American Statistical Association, please visit the ASA web site at http://www.amstat.org or call 703.684.1221.
#####
For more information:
Rosanne Desmone
703.302.1861 (office)
703.946.3820 (mobile)
rosanne[at]amstat.org