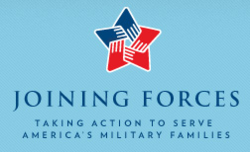 Atlanta, GA (PRWEB) July 22, 2012
CivilianJobs.com, where America's military connects with civilian careers, today announced results from their military job fairs at Fort Bragg on July 18 and Camp Lejeune on July 19. More than 1000 veterans and over 70 military-friendly companies participated.
"CivilianJobs.com is pleased to have helped so many veterans connect with civilian employers during our back-to-back military job fairs last week," said Pete Charest, CivilianJobs.com Director of Staffing. "One of the employer benefits of CivilianJobs.com's military job fairs is that they take place on or near military bases. This brings more of the valuable transitioning-veteran demographic to bear for military-friendly companies, and that certainly was the case with these Joining Forces-sponsored events."
The Joining Forces sponsorship of CivilianJobs.com job fairs was announced in June. Upcoming Joining Forces / CivilianJobs.com job fairs include Ft. Benning, Georgia on Wednesday, August 1 and Norfolk, Virginia on Wednesday, August 29. Registration information and the full schedule of CivilianJobs.com job fairs can be found at the CivilianJobs.com web site.
About CivilianJobs.com
CivilianJobs.com, where America's military connects with civilian careers, delivers military job fairs, staffing services, a job board plus employer advertising in our military base newspaper, Civilian Job News. CivilianJobs.com is also home to military affinity programs including the Most Valuable Employers (MVE) for Military® and the Top 40 Under 40 Military. CivilianJobs.com is a wholly-owned subsidiary of Bradley-Morris, Inc. and is based in metro-Atlanta, Georgia.