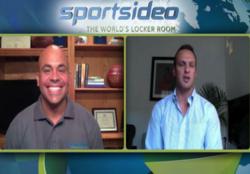 You just need to see and hear these interviews to understand how each person's sports experience has not only positively impacted their lives - sometimes in unexpected ways - but has also helped to positively influence the lives of the people around them
Huntington, NY (PRWEB) July 23, 2012
Sportsideo, the rapidly growing sports community, announced today that it has launched its new video interview series, The Sports Experience. The first interview in the Sports Experience series is with Aaron Pribble, professional baseball pitcher and author of Pitching in the Promised Land, one of Baseball America's Top Ten Books of the Year. Sportsideo's Sports Experience Interview series will release new interviews each week with athletes, coaches, trainers, executives, and news reporters highlighting the sports experiences of each guest. Sports Experience Interviews can be seen on Sportsideo.
"Sportsideo was founded with a few simple beliefs: people who participate in sports lead happier and more fulfilled lives, and people who have a shared sports experience seem to understand each other better," said Steve Vesce, Co-Founder and Managing Director of Sportsideo. "We are very excited and pleased to bring those ideas to life by sharing with our community, the sports experiences and stories of people who participate in various sports around the world. You just need to see and hear these interviews to understand how each person's sports experience has not only positively impacted their lives - sometimes in unexpected ways - but has also helped to positively influence the lives of the people around them," Vesce concluded.
Sports Experience host, Keith Irizarry, commented "Being a part of Sportsideo has been a great sports experience for me. The first interview in the series with Aaron Pribble highlighted what the Sports Experience series is all about. Aaron is an accomplished pro athlete, a teacher, and an award winning writer. It was a treat to get to speak with him."
Sportsideo's interview with Aaron Pribble can be seen on Sportsideo.
About Aaron Pribble
Aaron Pribble was one of the first players drafted to the Israel Baseball League and is the author of Pitching in The Promised Land, one of Baseball America's Top Ten Books of the Year. He played collegiate baseball at the University of Hawaii then professionally in the Western and Central Baseball Leagues, in France, and in the Israel Baseball League. He has a master's degree in political science and teaches in California.
About Sportsideo
Sportsideo (Sports "for that reason") was founded by professional and amateur athletes to enable all sports participants to connect, improve, and achieve with others in their favorite sports. Sportsideo provides each member of our community with the same "pro experience" enjoyed by professional athletes whenever they enter their locker room – free, easy and instant access to professional and amateur Athletes, Coaches, Scouts, Officials, Agents, Executives, Healthcare Pros, Trainers, Nutritionists, News Reporters, and Sports Organizations. We began Sportsideo with two simple beliefs: 1) Participating in sports is good and helps children and adults lead happier, healthier and more fulfilling lives; and 2) people who share sports experiences improve their understanding of, and respect for each other. You can see our pre-launch interview FoxNewsLive, Join the Sportsideo community at Sportsideo and you can keep current on the latest on Sportsideo by visiting Sportsideo's Facebook page, following us on Twitter, or visiting our Channel on YouTube.