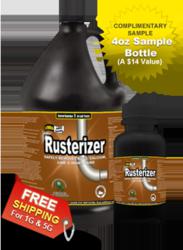 As reviews and testimonials from its clients said, Rusterizer is tough when it comes rust flakes and stains.
St Louis, MO (PRWEB) July 22, 2012
Rust removal is not an easy cleaning task. Tearing rust flakes and clearing rust stains take hours to complete. That is why a rust removal product is needed for an easier and faster process. But there is a problem. Most of the conventional solutions for corrosion are with harsh chemical ingredients. So to provide a safer solution, Rusterizer created a non-toxic rust remover. And as a bonus, the company is offering the product with zero shipping fee.
The said non-toxic rust remover also bears the name Rusterizer. It is basically a spray solution made with the use of natural ingredients as citrus, corn and natural oils.
Watch Rusterizer in Action
Unlike the many rust solutions available today, the product has the perfect balance of safety and effectiveness. Because of the absence of harmful chemical elements, exposure to it does not cause dizziness, headache or breathing difficulties. It also leaves no residue that can additionally pollute the environment.
However, the company stressed that the product's gentleness to health and the environment does not overcome its effectiveness. As reviews and testimonials from its clients said, Rusterizer is tough when it comes rust flakes and stains. And the bonus they noted is that in most cases, no scrubbing is even needed.
In addition to its safety and effectiveness, a representative of the company said that the product got more perks to offer. The fact that the solution can be used safely on many indoor and outdoor surfaces is one of the additional benefits that the rep cited. Among those surfaces where the solution can be used, as the company enumerated, were stucco, metal, wood, fiberglass, plastic and stone.
See the Complete List of Items and Surfaces Rusterizer Can Be Used On
But to all property owners and rust contractors, probably the best news that Rusterizer can give is that the solution is pocket-friendly. It is available in different volumes and so rust victims can get just the amount that they need and can keep away from straining their budget.
And because the solution is effective on almost any surface even on fabrics, there is no need to get several types of rust removal product for different rust-damaged items. Given that it can also get the job done the first time, rust removal cost is reduced. That can give homeowners big savings. On the side of the rust contractors, that can deliver big profit as resource and labor costs are reduced.
To add to those financial benefits, this week, the company is also offering Rusterizer with 10% discount and free shipping. And needless to say that can add more to property owners and rust contractors' huge savings. For buyers to get the 10 percent price cut and zero shipping fee, they just have to type in code "pr10" at checkout.
Take Advantage of the 10% Discount and Free Shipping. Order Rusterizer Today