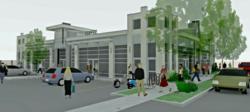 We really want to encourage other developers to move to North Avenue because it is a great place for commerce
Milwaukee, WI (PRWEB) July 23, 2012
The owners of NYPD Pizza plan to rejuvenate Brewer's Hill area with developments beginning the week of July 15th.
The project will start with razing three buildings next door to the pizzera on Palmer and North Ave in Milwaukee to make way for developments.
"We really want to encourage other developers to move to North Avenue because it is a great place for commerce," says Abel Hamdan, owner NYPD Pizza. "We are very successful and have done better than expected."
It is good to let people know NYPD Pizza is growing and that someone is concerned with development of Brewers Hill and North Ave says Hamdan. The target date for project completion is 2014.
NYPD Pizza is located at 231 E North Avenue, Milwaukee. Visit http://www.nypdmke.com or call (414) 562-4444 for more information.
About
The mission of New York Pizza Delivery is to give Milwaukee a convenient, clean and quality dining experience. All dishes are made to order to ensure customer satisfaction. NYPD Pizza's pizza dough and sauce are also made from scratch and topped with the freshest ingredients. NYPD Pizza servers up great New York style pizza and offers pizza delivery to the entire Milwaukee metro market.