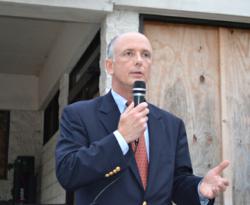 Greenburgh, N.Y (PRWEB) July 21, 2012
The proposed Westchester Field House sports complex in Greenburgh gained community support at an information session held last night at its proposed location at 715 Dobbs Ferry Road, former site of Frank's Nursery. Over 100 people attended the rescheduled event, hosted by the Town of Greenburgh, that had been postponed due to inclement weather. Greenburgh Town Supervisor Paul Feiner, Town Attorney Timothy Lewis, Town Assessor Edye McCarthy and Department of Community Development and Conservation Commissioner Thomas Madden were joined by officers from Game On 365, the proposed developer of The Westchester Field House to discuss benefits of the project for Greenburgh residents and questions were answered from those in attendance.
The Westchester Field House will have a healthy impact on financial and quality-of-life issues. The Game On 365 annual lease payment will substantially exceed the taxes owed on the property in each year of lease and provide the Town of Greenburgh with 100% of tax revenues collected on the property. Lease payments will total over a quarter million dollars annually in revenue on a property that currently generates zero revenue. Residents will have increased access to sports fields and recreational activities, including an indoor walking track accessible to older adults free of charge during weekday mornings in the fall, winter and spring seasons.
"As a local business, Game On 365 looks forward to improving the sports and recreation resources in the Town of Greenburgh by building The Westchester Field House," said Martin Hewitt, Project Manager for Game On 365. "The proposal to build The Westchester Field House supports the Town's need for indoor recreation and quality fields, particularly in the wintertime."
Hewitt encouraged attendees at the event to share their support of the project with Supervisor Feiner.
A Town Hall meeting to discuss the brand new, state-of-the-art facility will take place on Wednesday, July 25th at Greenburgh Town Hall located at 177 Hillside Avenue, Greenburgh, N.Y. at 6:30 p.m. Supporters are encouraged to sign The Westchester Field House online petition at http://www.TheWestchesterFieldHouse.com, 'Like' The Westchester Field House on Facebook at http://www.facebook.com/thewestchesterfieldhouse, 'Follow' on Twitter at http://www.twitter.com/buildthebubble or share support with Town Supervisor Paul Feiner at pfeiner(at)greenburghny(dot)com or call him directly at (914) 993-1540.
About the Westchester Field House
The proposed Westchester Field House will offer an unparalleled opportunity for a state-of-the-art, year-round recreational facility in the heart of the Town of Greenburgh, New York. At the site of an abandoned property, The Westchester Field House would provide; greater recreational opportunities for all ages, expanded tax collection, more jobs and enrichment that grooms our youth to actively participate in sports.
About Game On 365
Game On 365 was founded by local residents and is based in Tarrytown, New York. Game on 365 and its partners have for the past two years developed the proposal to build The Westchester Field House and Game On 365 partners are successfully operating two indoor sports facilities in Bergen County, New Jersey. The Westchester Field House will be similar in size and concept to Superdome Sports, its sister facility in Waldwick, New Jersey. Game On 365 can be reached at (914) 573-4646 and more information can be found by visiting http://www.TheWestchesterFieldHouse.com.