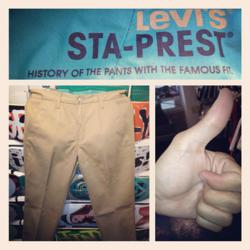 "...there's Levis and then there's every other pant company."
Annapolis, MD (PRWEB) July 23, 2012
Last month Pure Board Shop got in their first ever shipment of Levi's jeans and pants, Pure customers are absolutely ecstatic not just due to the fact they could now get Levi's at their local skate shop, but also because the Levis available at the Pure we're not available in any other place besides core shops. Josh Menocal, Manager at Pure Board Shop, also contributes the success of Levi's in the shop to the brand itself. "It's Levis, everyone knows and respects them, they are classic and quality, and it seems to me for most people, there's Levis and then there's every other pant company," Josh explains.
Not to disappoint, Pure Board Shop has got in a new shipment of Levis for July featuring the 511 Sta-Prest Pants. The 511 Sta-Prest Pants are a tough 60's punk and mod style inspired non-stretch twill pant. These pants feature a permanent crease that will not come out in the wash or won't need to be reinforced with ironing. Another feature of the Sta-Prest pants which people are sure to be excited about is the 34 inch inseam. The pros to having and inseam that long is you can either cuff your pants, which is a popular style currently, or you can have your pants hemmed to you're own desired inseam length. One last added bonus to these pants is their eco friendly construction.
Levi's has recently come up with a process which they refer to as their Water<Less Process. The Water<Less process uses less water in the stone washing stage of the pant construction, which reduces Levi's water footprint. With 13 million products in Levi's Spring 2012 line using the Water<Process this translates into 96% less water use for each pair of pants, and 172 million of liters of water saved to date. Whether it be for eco reasons or style, there is absolutely no reason you shouldn't be excited about the Levis 511 Sta-Prest pants, now available at Pure Board Shop.