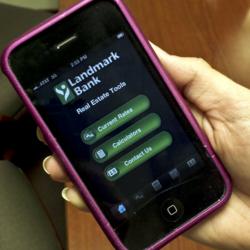 Landmark Bank is the first local bank in its communities to offer an app like this one.
Columbia, MO (PRWEB) July 24, 2012
With rising numbers of would-be home buyers looking to take advantage of today's historically low mortgage rates, Landmark Bank recently unveiled a new iPhone/iPod Touch/iPad app specifically designed to assist in the mortgage loan process. With quick access to rate and payment information, Landmark's new "Real Estate Tools" app offers convenient help, including quick access to current mortgage loan rates, for potential homeowners seeking to purchase a new home and current homeowners seeking to refinance.
Landmark Bank's "Real Estate Tools" app is designed to allow users to access the most important real estate and mortgage information quickly and easily. The app includes immediate access to current home loan rates, a calculator for figuring monthly payments for new home loans or refinancing, and a QR code reader to scan a realtor's contact information or a real estate listing.
"Landmark Bank is the first local bank in our communities to offer an app like this one," said Mike Lance, Landmark Bank mortgage lending manager. "The milestone reflects our dedication to providing local, hometown service paired with convenient technology. The app provides the quick information that consumers need, and our local lending officers are nearby to answer questions face-to-face or over the phone."
Serving 27 communities in Missouri, Texas and Oklahoma, Landmark Bank employs a total of 28 mortgage loan officers with an average tenure of 15 years with Landmark Bank, to provide knowledgeable, dedicated local service. In addition to the iPhone/iPad/iPod app, Landmark expects to launch an Android version of the Real Estate Tools app within the next 30 days.
Enhancing its suite of banking services available 24 hours a day, seven days a week, 365 days a year, Landmark Bank offers the "Real Estate Tools" app in addition to its mobile banking app that allows customers to check account balances, transfer money, locate ATMs and bank locations and pay bills. The Landmark Bank mobile application is available for iPhone, Android and Blackberry users. Text/SMS banking is also available for customers to check account balances, request account history, initiate transfers and request help via text messages.
For more information on Landmark Bank's Real Estate Tools app, visit http://www.landmarkbank.com or call (800) 618-5503.
###
ABOUT LANDMARK BANK
Headquartered in Columbia, Missouri, Landmark Bank is a community bank with $1.6 billion in assets and 40 locations in 27 communities across Missouri, Oklahoma and Texas. Landmark Bank was established in 1909.