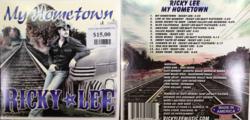 Elma, New York (PRWEB) July 23, 2012
Ricky Lee, a Nashville Recording Artist, has released his third full-length, all US made country album titled "My Home Town". The Made In America Store and Ricky Lee have been a team since April of 2010, bringing a new wave of ideals and songs to their fans. The Made In America Store has started their "Made In America Records" side company to introduce 100% American made CDs.
"My Home Town" brings 13 new tracks on an American made CD. The new CD from Ricky Lee brings a more seasoned sound from up-beat songs like "Summer of '85" to slower, more intimate tracks like "Amazing". The full length album was recorded and mastered at Studio 19 in Nashville, Tennessee and manufactured here in the states. This full length album also marks the third all US made CD ever made in the United States.
Ricky Lee had teamed up with the Made In America Store back in 2010 to produce the world's first 100% US made music CD. The album titled "Freedom" brought patriotic tracks and a little something for the veterans. For every CD sold at the Made In America Store, five dollars will be donated to the VFW Military Assistance Program. Since the initial release of "Freedom", Ricky Lee has expanded from his home town in Altoona, PA, to becoming a household name in Western New York, Nashville, and recently, big country stars including Gretchen Wilson and Randy Houser!
Consumers can purchase all of Ricky Lee's 100% American made CDs by clicking here!
The Made In America Store has presented Ricky Lee to some big name events, one of which recently was Jam in the Valley 2012. The Made In America Store had sponsored the Jam In The Valley this year (2012) which brought 25,000 fans to the small town of Varysburg, New York, for a two day country music festival. This two day concert event gave the Made In America Store and Ricky Lee the chance to get their name known and an opportunity to show that Ricky had what it takes to compete with the big names. Ricky Lee opened for the main acts of Gretchen Wilson, Sawyer brown, Jerrod Neimann and Thomas Rhett with the National Anthem on Friday.
Additionally, Ricky Lee had his own set on the second day of Jam in the Valley where he opened the concert with a live performance before Randy Houser, Justin Moore and Lynyrd Skynyrd. After the headliner played their last song, Ricky Lee got a chance to sing a solo song in honor of our troops, right before the fireworks.
Fans of Ricky Lee or Country music can catch Ricky Lee live in Clarence, New York, for the 8th annual Rock the Barn Music Festival. Ricky Lee will performing Friday, July 20th.
Ricky Lee and the Made In America Store teamed up back in 2010 when the store owner, Mark Andol, discovered Lee's song, 'Made In America." The patriotic song is about Ricky growing up in America and how times used to be with relatives working on the factory line to it eventually being shut down. The song stresses how important it is to keep your values with being made in American.
The Made In America Store is located at 900 Maple Road in Elma, New York and is committed to selling 100% American manufactured products. You can visit http://www.MadeInAmericaStore.com for more information or shop our catalog of over 3,500 products from over 290 vendors that are devoted to producing USA made products. All US military personnel, both active duty and veterans, receive a discount every day. Consumers can also keep up to date news articles, events, photos and contests with Facebook, Twitter, Google+, Pinterest and Tumblr!