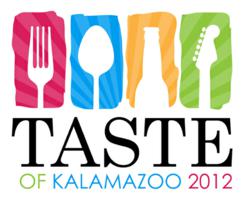 (PRWEB) July 21, 2012
In one week the most anticipated event for Kalamazoo locals has finally arrived. The 27th annual Taste of Kalamazoo brings together all age groups to have an official taste at what the restaurants and bars of Kalamazoo have to offer. On top of all the great food and drinks available, add music into the mix and that makes three nights of amazing entertainment.
The Taste of Kalamazoo is truly a festival for Foodies. Thirty local restaurants come together and bring over 200 samplings combined. Have a sweet tooth? Ethnic foods? Vegetarian? Meat lover? There is something for everyone at The Taste of Kalamazoo. Restaurants include La Mexicana, Blue Dolphin, Sushiya, Kalamazoo Beer Exchange, Cold Stone Creamery and so many more tasty places.
Entertainment Director, Paul Toth, says, "I enjoy booking the music for The Taste of Kalamazoo, the line-up is heavily focused on local and regional music reflecting the amazing talent we have here in Kalamazoo."
"The Corn Fed Girls and The Red Sea Pedestrians performing Abbey Road is one of the finest productions I have ever seen in Kalamazoo," says Toth. On Thursday, July 26th, these two performers will be starting off the night at 6:30 with Abbey Road rounding out the evening at 10:00.
Friday and Saturday more bands bring together a collection of music to keep all ears happy. On Friday the music kicks off at noon and lasts until the late hours of the night. July 27th, people will find Funktion, Start Making Sense (Talking Heads Tribute), and Chicago's illmeasures, among three other bands playing throughout the day.
Toth has been booking music in Kalamazoo for festivals and and the former Club Soda, and he says that one act that he is very excited to present is Chicago's illmeasures who will bring an underground dance party Friday night. The mixture of music at the festival ranges from Reggae, Folk, Rock, to everywhere in between.
And that brings Saturday night, the final night. All festivals save the best for last. Once again the music and food starts at noon and last all day. Local bands start off the weekend right with Top Heavy and ending with The Verve Pipe. There is never a dull moment.
The Taste of Kalamazoo doesn't forget about all the families wanting to have fun over the weekend. The Greatest Kazoo Duck Race has amazing rewards benefiting Hospice Care of Southwest Michigan. Of course there are prizes, 25 to be exact. The grand prize is a 2-night stay in the Kalamazoo House Bed & Breakfast.
For ALL the information visit http://www.tasteofkalamazoo.com/. The 27th annual Taste of Kalamazoo brings residents and locals together all weekend long.