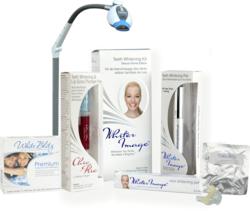 White Blitz offers a full range of whitening products designed to significantly boost a spa or tanning salon's bottom line
Atlanta, GA (PRWEB) July 22, 2012
Earlier this week, White Blitz revealed their long-anticipated web presence, WhiteBlitz.com! Monday marked another milestone in the company's history of growth in the beauty industry. White Blitz delivers teeth whitening solutions to the Spa and Tanning Salon industry through their line of premium cosmetic teeth whitening products.
White Blitz showcases their complete line of products on the site, including their Pre-filled Teeth Whitening Tray, used in conjunction with their LED Whitening Light. All White Blitz products are safe for use in the spa. "Sensitivity is one of the main pillars of design when developing our products. Using our products ensures a comfortable whitening experience without the onset of sensitivity," says Chris Morrison, White Blitz's Director of Marketing.
White Blitz offers a full range of whitening products designed to significantly boost a spa or tanning salon's bottom line. With the launch of the new site comes the launch of two new products to their lineup; the Self Impression Home Edition Kit and the Mini Whitening Pen add a new dimension to their lineup.
The versatile Home Edition Kit offers users the ability to make a custom impression of the teeth in order to administer whitening in the comfort and convenience of your home. In just 10 applications, you will see a brighter, healthier smile.
That brings us to the dynamic Mini Whitening Pen. Although it may have mini in the name, this compact whitening pen is delivering enormous results. Quite a number of spas are actually using this pen as a dedicated business card. White Blitz offers you the ability to print your businesses contact information on each pen. This is one business card, that won't get thrown away!
To learn more about White Blitz and how they can help the growth of your spa or tanning salon visit them online at http://www.whiteblitz.com or call them at 877-944-8330 for more information.