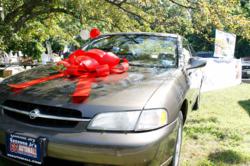 This is just the start of the Hope for a Ride program; the program will continue...
Neptune, NJ (PRWEB) July 21, 2012
Sansone Jr.'s 66 Automall has officially kicked off the Hope For A Ride program, developed with the goal of helping local families improve their lives. The Lighthouse of Deliverance Church hosted Community Day on Saturday, June 23, 2012, when Hope For A Ride kicked off. At the event three cars were donated to deserving local families.
Community day featured more than 30 vendors and activities that appealed to every age group including live entertainment, guest speakers, information on family/social services, and games. The highlight of the event was when Paul Sansone Jr. approached the stage and announced the recipients of the donated vehicles. Sansone Jr's 66 Automall's donated vehicles included a Ford Windstar, Nissan Altima, and Hyundai Elantra GLS. The Hope For A Ride organization has scheduled the next vehicle donation for August 18, 2012 at a community event, which will be hosted by the First French Speaking Baptist Church in Asbury Park.
This is just the start of the Hope for a Ride program; the program will continue to work with local organizations in the Neptune/Asbury Park area, which are providing recommendations for families in need of a vehicle. A vehicle will be given out monthly (approximately), depending on the need. Recommendations are not being accepted at the dealership; instead those who wish to be considered as a recipient or those organizations interested in working with Hope For A Ride should contact Josh Moran at jmoran(at)wheeleradvertising(dot)com.
About "866-Rent-2-Own"
"866-Rent-2-Own" is another program, which has been developed by Sansone Jr.'s 66 Automall to help the community obtain a vehicle. This program is the alternative for customers who could not get a conventional loan, are being offered a higher interest rate, are being offered less than what they deserve or wish to save for an additional down payment in the future. It's a customized program that transitions customers from a car renter to a car owner. For more information regarding the "866-Rent-2-Own" program, visit http://866rent2own.com