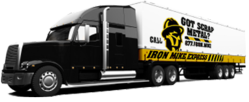 Detroit, MI (PRWEB) July 22, 2012
It may be pain for truckers traveling the long interstates of the Midwest to have to stop and weigh their trucks. How accurate are the scales, really? Iron Mike is inviting all those who need to weigh-in to use the new 72' certified truck scale. Located at 12844 Greenfield Rd one block North of I-96 in Detroit, Michigan, passer-bys of the area will receive an accurate number from Iron Mike's truck scale.
Iron Mike Scrap Metal Service Center is reputable for being the cleanest and fasted metal service center in the Midwest. Iron Mike collects scrap metal at the lowest prices possible. Prices are updated daily on the website. He has now expanded services to a quick in and out weighing service. The 72' truck scale is located only 800 feet from the freeway. What could be a quicker weigh-in location? Weighing-in is important due to the repercussions that come with exceeding weight limits on the highways and freeways of America. Weight hauling in Michigan is based on the type of commercial truck, which leaves it up to the driver to comply to the laws.
In addition to checking for accurate weight of trucks, Iron Mike fills tires with free air. It is rare for regular travelers to receive free air from air pumps. There is always a minimal fee. Weight tickets are given. For military personnel, it's free weights. With 5 acres of paved land, Iron Mike enables a smooth entry and exit for all trucks.
Iron Mike Scrap Metal Service Center has full services for scrap metal, demolition, and rigging. With the new addition of the certified truck scale to services, those with extra scrap metal can make extra money while getting weighed in the same stop.
For further information about the 72' certified truck scale and Iron Mike's Scrap Metal Service, visit their main website at http://www.877ironmike.com.