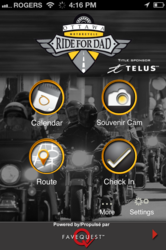 With over 10,000 participants taking part each year, staying connected to our ridership is extremely important to us. MyRiderApps offered us a way to keep connected before, during and after the event.
Carlsbad, Ca (PRWEB) July 24, 2012
Dynamic Solutions Group, a nationwide provider of advanced mobile solutions, announces the debut of FaveQuest's MyRiderApps platform in the USA. The MyRiderApps platform is a framework for creating fully interactive mobile apps for riders, and is directed towards four major market segments: manufacturers, dealerships, clubs and event rides. MyRiderApps provides a safer, social and more enjoyable experience for their customers, the rider. These apps increase revenues, brand awareness and customer loyalty at all levels.
"With several successful biker apps deployed, MyRiderApps takes that experience, adds more innovative features and puts it all together in a platform that allows the deployment of best in breed motorcycle apps at a cost point not available to the market before," said Adam Lyberger, VP of Marketing at BikerBuddy Active Safety Products. "The Live Map and Check In features bring a new level of social networking, along with making rides safer and more enjoyable. These features are perfect for group rides, manufacturers and rental/tour operators among others."
With more then 50% of riders using smartphones, and more people accessing the web primarily through mobile devices, it makes sense for those involved in motorcycling to support their riders through mobile apps. Safer, social, content rich and extremely affordable apps can be rapidly created for nationwide ride events, dealership events such as ride days and vendor days, HOG Chapters and forums with regional meets. The possibilities extend from manufacturers to large single event rides such as the annual Love Ride, charity rides, Sturgis and Daytona meets. All parties benefit from increased participation, better organization and instant updates/changes and adds.
Dynamic Solutions Group was founded in 2003 and is headquartered in Carlsbad, CA.
FaveQuest was founded in 2008 and has quickly become a top app producer in its vertical.