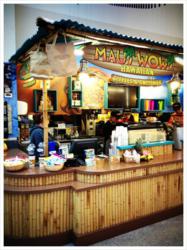 Iced coffee means added profits for our franchisees. It's easy to do for our mobile business model, as well as fixed locations and gives franchisees an extension to the core product line.
Greenwood Village, CO (PRWEB) July 21, 2012
Maui Wowi Hawaiian offers an opportunity for its franchise operators to expand their product lines by using the Toddy Cold Brew System to prepare premium Hawaiian coffee; creating a smooth and refreshing iced coffee or espresso beverage for customers. The international franchise company is staying current in the competitive beverage industry by taking advantage of the increasingly popular iced coffee market.
"There is big money to be made with iced coffee; it's no wonder Burger King and McDonalds are going after this market because it's driving sales at the cash register," said Holli Gallaher, Director of Franchise Operations at Maui Wowi Hawaiian. "Iced coffee means added profits for our franchisees. It's easy to do for our mobile business model, as well as fixed locations and gives franchisees an extension to the core product line."
Maui Wowi uses the Toddy System, which is a technique of cold brewing coffee. Patented in 1964 by a chemical engineering graduate at Cornell University, the cold brew method is said to provide a smoother, more flavorful product. The unique technology prides itself on being a simple way to brew coffee with a lower acidity level and more flavor. It uses time, rather than heat to extract the flavor and caffeine, while leaving behind the bitter taste of undesirable elements, according to the website.
"With the Toddy System, you don't need to be a barista. The secret is the cold brew method, which is designed to give it less acidity, making it more appealing to people who enjoy the smooth taste of Hawaiian iced coffee." Gallaher said. "There are also considerable operational benefits to using the Toddy System because it's so easy to make," Gallaher added.
The coffee and smoothie franchise company specializes in serving simple, healthy fresh fruit smoothies and premium Hawaiian coffee and espresso beverages from its various flexible business models, which include mobile event units, catering, and kiosks. The Toddy method, allows Maui Wowi Franchise Operators the ability to serve iced espresso drinks at festivals and other events where it is sometimes difficult or even impossible to set up an espresso machine.
"This system is great for our mobile operators. By using the Toddy system, they can not only offer customers iced coffee but iced lattés and mochas as well. Our Carmel Mocha Delight is one of the most sought after beverages and now this system allows franchisees the ability to serve the iced version without using an espresso machine." Gallaher said.
The iced coffee industry has grown and according to an article on businessweek.com, in 2009, American's drank nearly 1.2 billion servings of iced coffee. The article also says the primary demographic is women, who make up 64% of all iced coffee drinkers. The customizable beverage can be made to suit the customer by adding flavored syrups and milk to create a one of a kind thirst quencher. For more information on the Toddy Cold Brew Coffee System, please visit http://www.ToddyCafe.com.
About Maui Wowi Hawaiian Coffees & Smoothies:
Since 1982, Maui Wowi Hawaiian has embraced the Hawaiian culture and has been serving paradise in a cup since the day it began, 30 years ago. From event carts, mall kiosks and stand-alone retail locations Maui Wowi Hawaiian offers premium, all-natural, gluten-free, fresh-fruit smoothies, as well as gourmet Hawaiian coffees and espresso beverages. With over 605 operating units in 9 countries, Maui Wowi Hawaiian has truly gone "Global" by adding an online store, shop.mauiwowi.com. Now customers from anywhere in the world can experience our prized-gourmet Hawaiian coffees and taste the 'Aloha Spirit' with a 'Click-of-a button'! To learn more information about Maui Wowi Hawaiian's, products, locations, or flexible, low cost franchising opportunities, visit http://www.mauiwowifranchise.com.