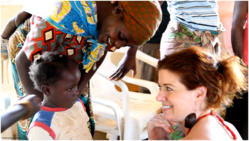 "There's still no single HIV intervention that offers complete protection—the power is in combination" - Debra Messing
Washington, D.C. (PRWEB) July 24, 2012
Award-winning actress and PSI Ambassador Debra Messing is in Washington, DC this week at the AIDS 2012 conference to advocate for the need to take a combined approach to HIV prevention.
Messing recently returned from a trip to Zambia where she met beneficiaries of US-funded programs who avoided a positive diagnosis or are learning to live positively with HIV because they have access to a wide range of effective HIV prevention methods and support services that meet their individual needs.
"There's still no single HIV intervention that offers complete protection—the power is in combination," said Debra Messing, Ambassador for PSI. "I'm in Washington at the AIDS 2012 conference and on Capitol Hill to tell the stories of people I met in Zambia who are leading healthier lives because they have access to a method of HIV prevention that fits their lifestyle."
On Tuesday afternoon, Messing co-hosted a discussion with Rajiv Shah, USAID Administrator, Paul De Lay, Deputy Director UNAIDS, Paul Hempel, Sr. VP Alere, Dr. Krishna Jafa, Director Sexual & Reproductive Health and Tuberculosis PSI, and Chief Mumena of the Kaonde people in Zambia, to highlight the need for collaboration across sectors to offer a complete HIV prevention package.
The AIDS 2012 conference in Washington DC will convene more than 25,000 global leaders who are committed to the fight against HIV, and who hold the power to shape the global funding and policy agendas to combat the AIDS epidemic. This is a moment of extraordinary scientific progress and potential, but the trajectory of the response to AIDS will depend heavily on the global community's ability to prevent new infections.
There are now a number of evidence-based interventions—male and female condoms, voluntary medical male circumcision, needle and syringe exchange, and use of antiretrovirals—for both prevention and treatment. There is compelling evidence that early treatment for HIV, and increased access to HIV counseling and testing as an entry point to care can help to reduce the chances of further transmission of the virus.
"HIV prevention is an essential component to an effective response," said Dr. Krishna Jafa. "Unless we reduce the number of new HIV infections, we will not have a meaningful impact on reducing the burden of disease caused by HIV."
Global health experts believe that this combination strategy is moving the world closer to realizing an AIDS-free generation. The rate of new HIV infections and AIDS-related deaths are at the lowest levels since the peak of the epidemic in 2001. The number of people living with HIV decreased by more than 25 percent between 2001 and 2009 in 33 countries around the world. But while the overall number of new infections is decreasing and access to treatment is increasing, there are still two new HIV infections for every one HIV-infected person placed on treatment. There is still work to be done.
About PSI
PSI is a global health organization dedicated to improving the health of people in the developing world by focusing on serious challenges like a lack of family planning, HIV/AIDS, barriers to maternal health, and the greatest threats to children under five, including malaria, diarrhea, pneumonia and malnutrition. http://www.psi.org