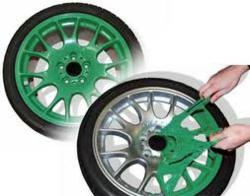 Peel off Car Wrap. No need for adhesives. Just apply by brush or spray, it forms a film. Remove by peeling off.
Los Angeles (PRWEB) July 25, 2012
Paint Wrap is the first spray on car wrap from Alsa. This product contains no adhesives, and it is do-it-yourself. This new product may replace some automotive vinyl wrap. It is water based safe paint that can be sprayed, brushed, or rolled, and then it forms into a film which is removable. The adhesion qualities are, not to be removed too easily and not too difficult to remove either. It is available in 100's of colors, and Alsa promises to color match any Pantone color. Alsa has a long history with sprayable chrome paints, and now they are entering into the car films market. The company says that spraying it gives you the smoothest finish.
The unique aspect about Alsa's Paint Wraps is that they can be removed. Whenever you want to change the color of your car, you just peel off the wrap, and paint on a new color or texture. Alsa uses non-toxic silicone and water based paint, and it goes on very smooth, even with a brush or roller. Clean up is easy with just soap and water. Even removable graffiti is possible.
The product is also offered with scents and several fragrances so your garage will smell great. It can be applied almost anywhere, with no need for a paint booth. Each coat dries in about 15 minutes. You can actually spray your entire car, including the glass, rubber, metal, and plastic, and then remove the areas that you want exposed. It comes in matte or gloss, and super gloss when a topcoat is added. Special effect pigments are available for a truly exotic look. Alsa offers a large line of custom & chrome paints.
Paint Wrap proves to be durable, weather resistant and it is user friendly. Alsa has wholesaler, and dealer programs available for the distributor. And it comes with a 2 year warranty.
If you have any questions regarding information on this product you can contact Alsa direct. Their website is http://www.alsacorp.com and can be reached at info(at)alsacorp(dot)com
Wrap it up with sex-a-peel!