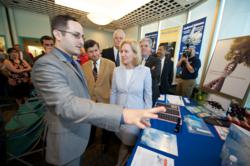 the work being done in some of our research labs and our colleges and universities is incredibly inspiring, including the work being done right here at Stony Brook's high tech incubator. I see young people bring ideas to fruition.
Stony Brook, NY (PRWEB) July 24, 2012
Eidelberg, joined by Intrigma's Vice President of Technology Dan Ports, provided Senator Gillibrand with an overview of key innovations behind Intrigma Scheduler, a medical staff scheduling software application that operates on a cloud computing platform. Intrigma Scheduler is used by medical centers and medical practice management firms across the U.S. and internationally to improve medical staff productivity and deliver quality of care at a lower cost.
Shortly after the presentation the senator was joined by New York State Congressman Tim Bishop, Assemblyman Steve Englebright and other local officials to introduce the "America Innovates Act," a new bill introduced by the senator to spur research and commercialization of innovative technologies.
"...Intrigma which is a startup that has created software to make healthcare administration more efficient so we can actually make sure more patients are being seen, that doctors' offices can work better and more effectively," said Senator Gillebrand.
Eidelberg commented, "The U.S. healthcare system is experiencing an unprecedented surge in patient visits caused by an aging baby boomer generation and at the same time a wave of aging medical professionals are retiring from the workforce. This creates an urgent need to operate more efficiently so that hospitals can see more patients and avoid burning out our medical professionals."
Intrigma offers a sophisticated, yet easy to use staff scheduling product that allows physicians and administrators who prepare schedules to increases productivity, enable a higher throughput of patients, increases physician retention.
"In the new age of value based purchasing hospitals will not only be held liable to delivering quality care, but to do so at an affordable price point. Intrigma provides a scheduling tool that enable doing this with ease on a cloud platform," added Eidelberg.
About Intrigma:
Intrigma Inc.(http://intrigma.com), a fast-growing software technology firm that was founded in 2004, is an innovation leader in the field of medical staff scheduling. Its flagship product, Intrigma Scheduler, is a cloud-based scheduling application used by healthcare systems, medical centers, community hospitals and physician practice management firms across the US and internationally. Intrigma's solutions are unique in their ability to simplify complicated scheduling workflows with a focus on increasing quality of care and reducing the hospital costs.
For more information about Intrigma, contact:
Matt Flewelling
Matt(at)Intrigma(dot)com
631-590-1625
http://intrigma.com