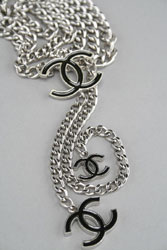 A large, blingy necklace with a chunky bracelet is too much. Your accessories should never compete.
Houston, TX (PRWEB) July 24, 2012
In addition to luxury clothing and high-end handbags, popular brands such as Chanel, Fendi, and Gucci offer designer accessories for shoppers who enjoy a dash of flair with their fine fashion. Today, Rodeo Drive Resale co-founder and style expert Raya Jaffer offers a few basic tips on how designer items like watches, scarves and earrings can take an outfit from ordinary to extraordinary in minutes.
1) Around The Office: Despite the rise of the business casual look, the age-old adage, "dress for the job you want" still rings true. Because of this, there are a few things to consider when adding accessories to your professional wardrobe. Desk jobs that require heavy typing would make a gaudy bracelet cumbersome; instead, opt for a flattering necklace or a pair of earrings.
2) A Relaxed Saturday: The weekend is an excellent time to experiment with style, especially with items such as sunglasses. Besides protection from the sun, the right pair of shades adds to the "cool factor" to a designer top and jeans. Sunglasses come in a variety of styles, so finding the right pair requires a bit of patience and understanding of which frames best compliment your face. Large, round frames work well with a square-shaped face, while those with round or oval faces should opt for shades with a horizontal frame. In addition, Raya says no woman's wardrobe is complete without an amazing purse: "The majority of your accessory budget should be dedicated to a quality handbag. Designer handbags typically do not go out of style, which is good because they can last for many years."
3) Date Night: When making a lasting impression is important, even the little things count. Adding a vintage (or simply vintage looking) piece of designer jewelry, such as an eye-catching ring with loads of personality, not only adds to the elegance of an outfit but can be a great conversation starter. Hand type should be considered when searching for a ring: Long, skinny fingers should steer clear of large rings, but they look fabulous on smaller, slightly-wider hands. Experiment with different styles and see what works best.
4) Tip For Online Shopping: Those new to online shopping may soon find that determining authenticity can be tricky: Sure, those Christian Dior sunglasses look amazing, but are they backed by a 100% Authenticity Guarantee? Reputable online vendors stand behind their merchandise and provide contact information (business name, phone number, address) at the request of a customer. The Better Business Bureau is another tool to learn more about the reputation of businesses both on and off the web. Shops like ShopRDR.com only handle authentic luxury goods and each one of their transactions are backed by a 100% Money Back Guarantee.
Raya advises shoppers to use a bit of fashion sense when shopping and invest in accessories that will stand the test of time. "It is best to be frugal with costume jewelry and trendy items. There is no reason to invest a lot of money in trendy items as they may be out of style by next season."
ABOUT RODEO DRIVE RESALE
With over a decade of experience, Rodeo Drive Resale specializes in buying, selling, and consignment of authentic couture fashions. Buy, sell or consign favorite luxury designers such as Louis Vuitton, Chanel, Prada, Gucci, St. John Knits, David Yurman, Christian Louboutin, Tiffany & Co. and more. All items are guaranteed 100% authentic. Visit RDR online at http://www.shopRDR.com or call toll free at (888)697-3725.