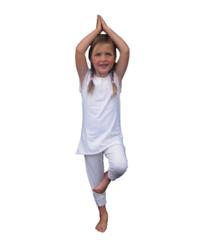 By doing this campaign we hope to spread simple awareness about the benefits of yoga while having fun.
Los Osos, CA (PRWEB) July 23, 2012
This summer, four companies that are all dedicated to improving the health and well being of children through kids yoga are collaborating on a 'Tree Pose Summer Campaign' which asks parents to submit a photo through of their child(ren) doing the classic Tree Pose posture, in interesting locations during their summer breaks. Playful Planet originated the campaign and is joined by OMazing Kids, Radiant Child Yoga and Child Light Yoga as sponsors of this 4-week campaign on Facebook.
Families are being asked to take a picture of their kids doing the tree pose during this summer vacation, whether traveling to exotic lands or hanging out at home. Each week, fans will vote on for their favorite image deciding the winner of a coveted prize from one of the sponsors. The campaign runs through August 12, 2012.
Playful Planet Founder, Karen Duggan said the idea was inspired by memories of being asked to participate in the Flat Stanley project with her nephew years ago. She recalled taking a cardboard cutout of "Stanley" to various locations and snapping a photo, and thought this could be modified to include real kids practicing a simple yoga pose.
Tree Pose is a classic yoga posture that is easily recognized by most people, and the Tree Pose Campaign includes instructions on how to enter the pose in a conscious way, and to take 3 centering breaths once there. Shakta Khalsa, of Radiant Child Yoga, who is one of the world's leading experts on children and yoga, having worked with both since the mid-1970s, created the simple to follow instructions for Tree Pose. Khalsa was careful to include the element of 3 centering breaths so this campaign held the integrity of providing a benefit of yoga while having fun.
Angela Moorad, Speech-Language Pathologist @ the JD McCarty Center and Founder of OMazing Kids, has recently published an article on The Benefits of Yoga for Kids which has a comprehensive list of the many benefits of yoga for children which include at the top of the list: Strength, flexibility, balance, concentration, focus, confidence, and the list goes on and on.
"By doing this campaign, we hope to spread simple awareness on the benefits of Yoga while having fun," said Lisa Flynn of ChildLight Yoga in New Hampshire.
To learn more about Playful Planet, visit http://www.playfulplanet.com
About Playful Planet
Founded in 2007, Playful Planet has been a vision realized by Karen Duggan and her husband Bryan. They have created programs are a unique experience that connect the health and well-being of the child with the health and well-being of the planet. As the vision has grown, so too has the realization that much of the work that is to be done under the Playful Planet banner is philanthropic in nature. The topics are timely and necessary and are meaningful on a global level.