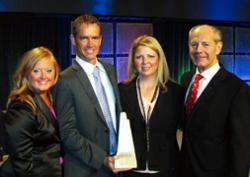 Perry Reid Properties wins an unprecedented 2nd PARAGON Award for excellence in Property Management.
Dallas, TX (PRWEB) July 22, 2012
Perry Reid Properties has been recognized by the National Apartment Association for Mansions of Hemingway Apartments in Johnston, Iowa, as the best community with over one-hundred-fifty units that was built between 1992―2007.
The PARAGON Awards recognize the outstanding contributions of multifamily builders, professionals and affiliated associations, according to NAA President Douglas Culkin, CAE. The award is a benchmark of personal and professional success. The judging criteria is based on age, financial performance, achieved goals, customer satisfaction, quality of construction, landscaping and marketing presentation: basically, the submission form is long. The PARAGON Award recognizes four main categories of excellence: Individual, Educational, Affiliate, and Builders, Owners and Developers.
Mansions at Hemingway resides in the greater Des Moines area and encompasses twenty plus acres. It has a spacious, airy clubhouse, resort style swimming pool, gym, sun deck, office center, and entertainment center. Residents are a few minutes from a choice of dining opportunities, entertainment, shopping, Saylorville Lake recreation, and Johnston Commons Park. The neighborhood location is ideal for urban dwellers.
Residents have the convenience of communicating a service request at their leisure online at MansionsApts.com, the community website developed by Spherexx.com. They can also leave comments and suggestions, refer a friend, or suggest a preferred employer. Prospective residents can set an appointment, review detailed leasing information and take advantage of an Internet offer. They can also arrange virtual furniture on a floor plan, take a photo tour, and submit an online application for residency.
About Perry Reid Properties
Perry Reid Properties defines itself and its objectives through a most successful history. Their high occupancy performance is achieved through intensely trained, experienced, and dedicated personnel. Perry Reid Properties exercises a hands-on management style with diligence and dedication, from initial lease-up through stabilized occupancy and forward.
About the National Apartment Association
The National Apartment Association (NAA) is America's leading advocate for quality rental housing. NAA's mission is to serve the interests of multifamily housing owners, managers, developers and suppliers and maintain a high level of professionalism in the multifamily housing industry to better serve the rental housing needs of the public.
NAA is a federation of 170 state and local affiliates, comprised of more than 55,000 multifamily housing companies representing more than 6.2 million apartment homes throughout the United States and Canada. Members in good standing of any affiliated association are automatically considered members of NAA and entitled to NAA benefits. NAA members represent all facets of the multifamily housing industry: apartment owners, management executives, developers, builders, investors, property managers, leasing consultants, maintenance personnel, suppliers and related business professionals throughout the United States and Canada.