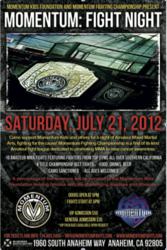 Los Angeles, CA (PRWEB) July 20, 2012
Sweet Sweat, the topical thermogenic workout enhancer produced by California-based Sports Research Corporation, supports the Momentum Kids Foundation and the Momentum Fighting Championship event, Momentum: Fight Night on Saturday, July 21st on their quest to raise cancer awareness.
The Momentum Fighting Championship is the first amateur Mixed Martial Arts fight league unique in its mission to keep young athletes off the streets, by providing them with platforms to showcase their talents, and at the same time raise cancer awareness. Through the Momentum: Fight Night event, young amateur MMA athletes will be able to showcase their talents while doing their part in the fight against cancer. A percentage of the proceeds from Momentum: Fight Night will be donated to the Momentum Kids Foundation, whose mission is to raise funds for families with kids diagnosed with cancer, and other life threatening illnesses.
"Team Sweet Sweat is excited to be part of this one of a kind event. The Momentum Kids Foundation and the Momentum Fighting Championship are doing an amazing thing for their community and are fighting for such a worthwhile cause. Sweet Sweat is proud to be amongst one of the sponsors of the event and is happy to be providing the talented young athletes with Sweet Sweat," said Sweet Sweat vice-president for sales and marketing Jeff Pedersen, Jr.
Kenny Johnson, MMA coach from Team Sweet Sweat will also be working the event to show his support and lend his expertise to the young amateur fighters. Kenny Johnson, is one of the many athletes that have experience the benefits of using Sweet Sweat during workouts to cut weight and burn fat fast. "Sweet Sweat is the ideal workout companion for MMA fighters and athletes because it helps them warm up faster, exercise longer, cut water weight, and speed up recovery time. The event is a great opportunity to share the benefits of Sweet Sweat with these young competitors," Pedersen added.
Sweet Sweat is formulated to improve blood circulation to help athletes train better and fitness goals. Sports Research is currently offering 20 percent off on all Sweet Sweat products ordered online and free shipping for orders that exceed $50. Visit SweetSweat.com or call +8006339308 for more information.
About Sweet Sweat:
Sweet Sweat was developed by fitness expert Jeff Pedersen, Sr., the first baseball player in NCAA history to start on three straight national champion teams. The elder Pedersen launched Sweet Sweat in 1980 and is now available in 54 countries worldwide. Sweet Sweat is manufactured by Sports Research, a California-based company that also produces dietary supplements and other fitness products.