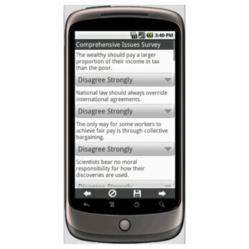 Reston, VA (PRWEB) July 26, 2012
Canvas, which developed the first mobile business app store of its kind that enables organizations to find, customize and create mobile applications specific to their industry or field, today announced it has launched a set of Political Campaign and Issue Advocacy mobile apps that can be downloaded and used by campaigns and issue advocacy organizations at the national, state and local level.
With the 2012 election season in full swing, the new Canvas Political Campaign app section includes several apps that campaigns and politically-oriented groups can download or customize based on their specific issues, geography and needs, including apps to conduct surveys and polls, track donations or manage field staffers and volunteers. Campaigns can even track exact locations where polls are being taken with app GPS locators, or upload photos and signatures of individuals surveyed or making donations.
Examples of mobile apps available in the Canvas mobile app store include:

Political issue canvasing apps – Allows campaigns and issue advocacy groups to capture voter sentiment on customized issues and analyze real-time voter feedback based on survey results.
Political job approval ratings apps – Allows campaigns and issue advocacy groups to poll voter sentiment to gauge approval ratings of candidates at the Federal, state and local level.
Donation tracking and lead capture apps – Enables campaigns and organizations to solicit donations for causes and candidates, and collect in real-time data on donors that can be leveraged across the organization.
Volunteer sign-up apps – Users can record information on volunteers, including name, contact info and other desired details.
"Political campaigns at the national, state and local level – as well as issue advocacy organizations – often lack the budget and resources to spend months on custom app development and are forced to rely on paper forms and processes," said James Quigley, CEO at Canvas. "The Canvas mobile app store is currently used by thousands of organizations to rapidly and affordably download, customize or create mobile apps, and we are excited to extend this functionality to politically-oriented users."
Thousands of businesses have leveraged Canvas' cloud-based solution to find, customize and publish business apps for mobile devices. In addition, the Canvas mobile business app store allows users to find mobile applications that work on a wide variety of mobile devices. The Canvas mobile app store now has apps across numerous verticals, including construction, healthcare, retail & wholesale distribution, government, education, hospitality and manufacturing.
About Canvas
Reston, Virginia-based Canvas has created an easy, fast and economical way for businesses of any size to find, customize or create their own mobile business apps. These apps effectively remove paper-based processes from nearly any organization or company's workflow. Canvas also reduces redundant data entry, enhancing productivity. Canvas is a cloud-based software service that enables users to collect information using their mobile devices, share that information with their customers and even integrate with backend systems. Canvas also offers the first mobile business app store of its kind, allowing businesses from diverse industries to find mobile apps specific to their needs. All Canvas apps work on Android, Blackberry, BlackBerry Playbook, iPhone, iPad, and Windows mobile/desktop devices. Every Canvas app is customizable by the end user, and can incorporate GPS/location, image capture, barcode scanning, electronic signatures and even access to information like parts catalogs and patient record
To date, Canvas has automated over 800,000 manual processes/paper forms, making it one of the fastest growing mobile app services for businesses. To learn more visit http://www.GoCanvas.com.