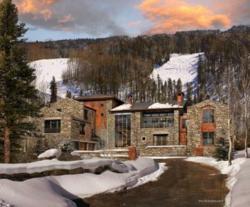 Vail, Colorado (PRWEB) July 23, 2012
Ron Byrne & Associates Real Estate is pleased to announce a new development in Vail, Colorado, 446 Forest Road. Located in the Forest/Beaver Dam/Rockledge Road neighborhood, 446 Forest Road is one of the last remaining opportunities in Vail for a ski-in/ski-out estate.
Designed by renowned Vail architect Gordon Pierce, the property embodies mountain contemporary style while embracing the timeless architecture for which Pierce is known. The legacy estate includes seven bedrooms, reflection pool, south-facing mountain views, two guest master suites, a private pilot's quarters, a workout room and spa/massage area, a family media room, and a wine cave. The layout brings these features together with ease. Uniting the property with the landscape and slopeside location, a warming hut is located just off the Vail Mountain ski area and is well suited for lunch, swapping skis or changing a parka.
Ron Byrne & Associates Real Estate has been involved with the development, redevelopment or consulting for over forty homes in Vail's most coveted neighborhoods. Ron Byrne recalls, "Upon the purchase of this lot, one of the most sought-after pieces of land in Vail was acquired. It represented an opportunity unable to be passed when it became available during the summer of 2011." He continues, "It will be the crown jewel of all of the developments on which our company has worked over the past thirty years and we feel the timing is right in the Vail real estate market for the creation of an estate of this caliber."
Learn more about 446 Forest Road by visiting the Ron Byrne website or calling (970) 467-1987.
---
Ron Byrne & Associates Real Estate develops, markets, and sells exclusive properties in Vail, Colorado. With over 25 years of experience, Ron Byrne & Associates offers the best service and most qualified advice to buyers and sellers of Vail real estate. Specializing in premium properties and prime locations, Ron Byrne & Associates enjoys putting experience to work. Call us, email, or visit our office in Vail Village to learn more.