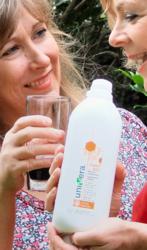 Low Energy, Poor Skin? Try Matol Km'
Cardiff, UK (PRWEB UK) 23 July 2012
As part of a special summer 2012 offer, Matol UK has announced a saving of £6.80 off all postage costs. Simply order from their site at matoluk and enter the code in the check-out page FREEPOST680.
Matol Km is a herbal tonic made of 13 herbs and 5 minerals. Its unique formula has been found to help those with skin problems such as psoriasis and low energy conditions such as Lupus.
Mrs C Miller of Lancaster, UK wrote: 'I felt I had to send you a mail to say a big thank you to Matol KM for changing my life.
'After suffering a very traumatic ordeal 6yrs ago I developed severe psoriasis and arthritis, my life became miserable and depressing,
'I spent £100s trying to ease my suffering and it is suffering in many ways. Now thanks to Matol Km I am happy again and some times forget my illness as it has virtually cleared. THANK YOU MATOL KM FOR GIVING ME BACK MY LIFE AS IT WAS.'
Chris Langley, Sales Manager of Matol UK says, "Check out this limited time offer as it ends on 31st July 2012."