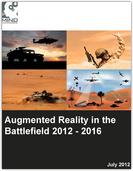 The Military AR market consists of three sub-markets: Frontline Combat, Support Operations, and Training.
(PRWEB) July 24, 2012
Driven by the rising popularity and adoption by worldwide militaries amid modernization efforts, the global Military Augmented Reality market will account for nearly 3.4 Billion USD in revenues by the end of 2012.
Augmented Reality (AR) is a live view of a real-world environment whose elements are augmented by computer-generated sensory input that enriches the user's situational awareness. AR consists of more than just visual (video or graphics) information as it includes other human senses and leverages various technologies such as localization data (mapping and points of interest) and positioning (GPS and other methods).
Driven by efforts to improve performance and safety within the battlefield, military spending on AR technology is expected to reach 3.4 USD in 2012. Between 2012 and 2016, the Military AR market is further expected to grow at a CAGR of nearly 25 %, eventually reaching 8.2 Billion USD in global spending by the end of 2016.
While the U.S and leading western economies are expected to lead the market, the rising economic powers from the Asia Pacific region will represent a strong element of growth. As a whole, the Military AR technology market in the Asia Pacific region will grow at a CAGR of 30 % over the next four years, which is the highest growth rate in all regions.
The "Augmented Reality in the Battlefield: 2012 – 2016" report provides an in-depth assessment of the global Military AR technology market including analysis of the broader AR technology market, applications in the battlefield, recent developments, vendor solutions and revenues forecasts from 2012 to 2016, segmented globally, regionally and by sub-market.
More information about the report is available from Mind Commerce at:
http://www.mindcommerce.com/Publications/AR_Battefield_2012-2016.php
A report brochure is available for download (PDF) from Mind Commerce at:
http://www.mindcommerce.com/sites/default/files/brochure/AR_Battlefield_July2012_0.pdf
About Mind Commerce
Mind Commerce has been in the business of independent technology and market research for over ten years. Our practice focus is telecommunications (fixed and wireless) and various ICT areas including Internet based infrastructure, commerce, content, and applications.
Contact Mind Commerce at: 1 877 MIND COM (877 646 3266)