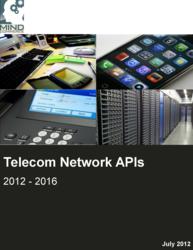 Telecom network API transactions will grow to an average of 94 billion transactions per month by 2016
(PRWEB) July 31, 2012
Driven by network operator willingness and ability to leverage customer related data to enable various value-added service (VAS) applications, the telecom network API market will account for nearly $75B USD in incremental revenue by the end of 2016.
Telecom network APIs capitalize on existing network infrastructure and assets to create a vast array of business opportunities for global telecommunications service providers. Telecom APIs allow carriers to disseminate a wealth of internal information to various third-party service providers. Examples include network QoS for video services, subscriber data management for advertising and profiling, and many others. Third-party companies utilize carrier information to offer a wide variety of VAS applications in return for incremental revenue to the carrier.
Today nearly 9 % of all Web and 5 % of all mobile applications utilize APIs. This figure is expected to increase to over 68 % by the end of 2016, driven by growing investments from the infrastructure vendor, software developer, and network operator community. In conjunction, the average volume of API transactions for tier-one telecom carriers will increase significantly over the next four years, eventually reaching an average 94 billion transactions per month. As a consequence, the telecom network API market is expected to account for nearly $ 75 Billion in global revenues worldwide by 2016, growing at a CAGR of 37 % between 2012 and 2016.
The "Telecom Network APIs: 2012 – 2016" report provides an in-depth assessment of the global Telecom Network API market, including business models, value chain analysis, network operator, aggregator and vendor strategies, and revenue forecasts for 2012 to 2016.
More information about the report is available from Mind Commerce at:
http://www.mindcommerce.com/Publications/TelecomAPI_2012-2016.php
A report brochure is available for download (PDF) from Mind Commerce at:
http://www.mindcommerce.com/sites/default/files/brochure/TelecomAPI_2012-2016_July2012.pdf
About Mind Commerce
Mind Commerce has been in the business of independent technology and market research for over ten years. Our practice focus is telecommunications (fixed and wireless) and various ICT areas including Internet based infrastructure, commerce, content, and applications.
Contact Mind Commerce at: 1 877 MIND COM (877 646 3266)