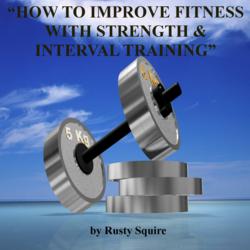 I don't know of any other companies that sell heart rate monitors that have written books on the topic of how to use one successfully
Bozeman, MT (PRWEB) July 22, 2012
Rusty Squire of the Heart Rate Watch Company is preparing to publish a new book in September called "How To Improve Fitness with Strength and Interval Training".
"I'm working on the book right now and it is part of the natural progression as the first book was all about building base fitness", says Rusty Squire, three-time All-American, World Record holder and former member of the US Ski Team. He adds, "This book will once again be given away as a free download from the Heart Rate Watch Company's home page just like the first book, "How to Successfully Use A Heart Rate Monitor".
The strength and interval training goes through how you gauge when interval training is appropriate based upon resting heart rate, how often to conduct strength or interval training, and
a host of topics related specifically to this type of training.
"This book is well suited to endurance athletes looking to build speed and power but we also cover elements of pure strength training in the gym as well", says Squire. He adds, "I've been working on the book daily and we are looking toward a mid-August to early September release; the book will be available as a free download on a banner on the Heart Rate Watch Company's homepage".
The second book completes a series that gives customers of Heart Rate Watch Company a complete road map for how to successfully use a heart rate monitor to maximize their fitness.
"I don't know of any other companies that sell heart rate monitors that have written books on the topic of how to use one successfully but we are completely committed to giving our customers the very best in resource tools, we don't just sell products", says Squire.