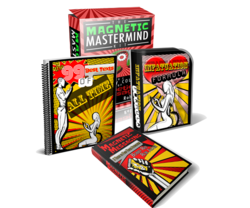 Hoboken, NJ (PRWEB) July 25, 2012
Ever wondered why men spend ages texting a girl; but she never wants to meet him in "real life"? Why a woman seemed like a total sweetheart when a guy meets her, only to go and hook up with that random other guy? Why sometimes he can send goofy texts and still get the girl; and with other girls the slightest mistake gets him struck off their hot list?
One man claims he has the answers.
Top Dating Coach Bobby Rio believes he's discovered the controversial truth behind how to text girls (http://www.textagirlguru.com) . Rio, who first gained notoriety from founding the extremely popular online men's magazine, TSB Mag, has teamed up with the equally notorious- but undeniably successful- "pick up artist" Rob Judge with a formula for texting girls that might just rock your world.
His controversial claims suggest that there are just 3 text messages that hold the key to turning an interaction from snooze to sex. Like pushing a key into a lock, these texts claim to awaken an exciting, fun and sexual side of her that she has hidden from all the other guys in her phone…
Yep, Rio says scrap the nice guy, "how are you?" messages, the politely asking her out texts; instead he advises making the texting instantly attractive... making her desire a man.
His controversial theories are based in a knowledge of female attraction being variable. Unlike guys who either like someone or they don't, he claims that with women it's way more of a grey area. Understanding the female psyche in this way, and using a simple 3 step process to give her what she needs to feel insane attraction: is what he believes is at the core of making her want a guy.
Unsurprisingly, his claims that women have a "Cinderella complex" whereby their attraction to you fluctuates, how the odds stack up against a guy, and how they may choose to blow a guy off for another man; have angered leading feminist writers who claim Rio represents women as immoral.
Yet, if someone thought that was controversial it's nothing compared to how Rio would have guys behave in order to seduce the women they've long been pining over. Rio's theories include discovering how to tap into a woman's "emotions" and make her stop in her tracks with the sudden shock of anticipation she feels for meeting him. Rio and Rob Judge then teach how to transform this "emotional connection" into a rock solid bond that makes her tied to a desire to see a guy in the future.
Then of course there's the sex. And how Rio believes a man can use text flirting to to turn a woman on.
Rio's final controversial strategy involves using this "rock solid bond," this capturing of a woman's emotion, to make her desire a guy... to make her want to be in his bed. So it seems that he presents men as equally immoral: using his radical texting techniques to make women want to have sex with them almost instantly.
Rio's book never shies away from this controversy though: instead it exploits it, opening the lid on the secrets men have always wanted to know about messaging women. You can come to your own moral conclusions about how "right" or "wrong" Rio is to have done this...but one thing's for sure, from all of the independent testimonials on the eBooks' effectiveness: Rio's techniques work.
Watch his free video where he explains his system at: http://www.magneticmessaging.com