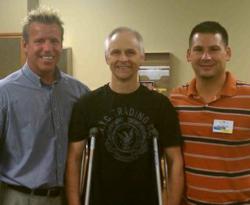 Prosperity with a purpose. From our prosperity we are called to help others says Bryan Binkholder
St. Louis, Missouri (PRWEB) July 23, 2012
Bryan Binkholder, The Financial Coach - A Fundraising Campaign to Save the Life of Mark Molitor
Nationally known speaker, radio host and author, Bryan Binkholder, The Financial Coach is heading up a fund raiser for Mark Molitor, who was recently diagnosed with a fatally dangerous tumor on his spine. When asked about the condition, Mark Molitor, a carpenter told a story that began with a simple pain in his back that he shrugged off, thinking it would go away. A carpenter by trade, Mark's work was affected by the pain which quickly worsened to debilitating levels.
"At first, my condition was a mystery," recalls Mark. "The doctor's had no idea why my condition continued to progress. Finally, they found the answer; a tumor had been growing on my spine. Unfortunately, it was in a position where no St. Louis doctor would touch it, since the risk of death or complete paralysis was almost 100%." Mark's life suddenly changed. Everything he looked forward to, --all his hopes and dreams of growing older and enjoying his family were suddenly threatened, until one day a chance meeting occurred between Mark's son Ben and an individual with the very same type of tumor as Mark. Ben recalls, "Finally, out of nowhere, here was a glimmer of hope in our lives. Through a chance meeting that I believe was set up supernaturally by God, I met a person who had my father's exact same condition, --but there was one difference. This man's tumor was successfully removed by a surgical specialist out of Washington D.C. who has performed this surgery hundreds of times."
"There's more to this story than that!" adds Bryan Binkholder, The Financial Coach. "A surgery such as this would certainly cost hundreds of thousands of dollars, but this doctor agreed to perform the procedure free of charge, to save a man's life. That's unheard of!"
In order to fly the family to Washington D.C., and pay for necessities during Mark Molitor's recovery period, Bryan Binkholder is heading up a campaign to raise as much money as possible.
"I personally will match the first $2,000," says Bryan, "and I'm asking people everywhere to please give generously. Sow a seed to save a life." Bryan went on to explain his view on giving to this need, "I believe that once in a while God strategically places us in a position to help another person fulfill a dream or fill a need in their life. Not only does this help the one in need, but I believe, --and the Word of God clearly tells us, --that sowing this seed will open phenomenal windows of blessing in our own lives as well. I believe that people who hear of this story will want to help!"
Bryan Binkholder has set up a website called Help Mark Molitor http://www.HelpMarkMolitor.com which tells more about Mark Molitor's condition and provides clear instructions for giving to this need.
"Please visit the site today and give whatever you can. You'll be sowing seeds into the life of another human being, and that's what life is all about." added Bryan.