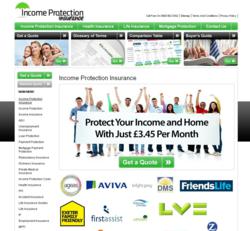 Compare Income Protection Insurance Prices
Birmingham (PRWEB UK) 23 July 2012
Incomeprotectinsurance.co.uk, a new website founded to help consumers compare insurance quotes of income protection providers, is the first official insurance comparison site of its kind. Other comparison sites have tended to focus on a broad array of insurance options, or have neglected to provide an income protection comparison service. By choosing to focus on this single area of insurance, the site provides specific and relevant information for its visitors. The site has garnered positive feedback from its visitors, who appreciate both the impartiality and professionally vetted quality of the listings.
"We wanted to create a place where consumers could get real-time information on these very specific insurance products," explains CEO and founder Wayne Lee. "We have a database that searches over 130 UK providers for quotes based on the specific information that each visitor enters. By using this site, they're getting both accuracy and access to knowledgeable professionals."
income protection insurance, which also includes forms known as payment protection insurance, redundancy insurance, and mortgage payment insurance, is a method whereby an individual can protect his assets in the event his income stream is disrupted. Depending on the provider, this type of insurance is available to full-time employees, contractors, and the self-employed. Insurance companies typically are able to provide benefits of up to 75% of the policy holder's full-time salary in the event of the loss of a job, an accident, or other catastrophic event. Applicants for this type of insurance must usually show proof of their previous employment history. Insurance companies generally prefer to award policies to those individuals who have a steady history of employment.
Income protection insurance has become an especially desirable form of insurance in what has been an exceptionally volatile and uncertain global economy. Many policy holders seek income protection insurance in order to protect long-term investments such as property or the educational future of their children. Benefits are dispersed according to a pre-determined time table which has a set deferral period. Depending on the provider, the benefit period can extend up to 2 years in length, allowing policy holders to maintain their standard of living while they find new sources of income. The premiums for the plans vary depending on the extent of the income protection plan and the specific provider, but average between £3 to £10 a month.
Broadly speaking, the differences between each form of income protection insurance are generally based on what financial area the benefits will cover. As an example, mortgage protection insurance focuses on meeting home or property payments, while a more general income protection plan would be designed to cover household expenses such as groceries, utilities, and other domestic needs. Each policy is usually tailored to the needs of the policy holder, and can therefore provide special benefits, such as access to legal aid, hotlines, and other special services. The site allows visitors to search by specific insurance type.
Some forms of income protection insurance are designed to aid individuals and their beneficiaries in the event of a debilitating accident or illness. This type of coverage is useful for self-employed individuals or contractors who may not be able to work in their profession until they have recovered from an injury. While the NHS will provide medical care for anyone who requires it, an accident or sickness policy helps policy holders meet their financial obligations while undergoing a lengthy recovery. In some cases, accident insurance can also provide financial aid for those individuals who need to see medical specialists whose costs may not necessarily be met by traditional health coverage.
Many of the visitors to the incomeprotectinsurance.co.uk site are looking for policies that will enable them to provide for their families in the event of an income disruption. Those who are supporting children or older, non-working relatives usually purchase an income protection plan as a way to ensure that their relatives will not suffer as a result of a sudden swing in the job market.
"Redundancies are unpredictable," CEO Wayne Lee explains. "There are really no 'safe' industries in terms of steady, reliable work. Anyone could lose their job at any time due to factors that have nothing to do with their performance."
The incomeprotectinsurance.co.uk online interface allows customers to quickly input their relevant details and then search listings to find the best-priced policies. The site encourages its visitors to contact each insurance provider directly for more detailed information about deferral periods, percentage of benefits in relationship to previous income, and specific provider amenities that may be available.