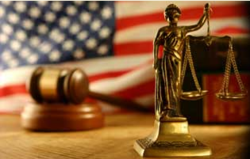 Our experienced lawyers are here to provide much needed support...
Houston, TX (PRWEB) July 24, 2012
Injury law firm McDonaldWorley.com, is now offering a free lawsuit case evaluation to people who have suffered health complications due to long term exposure to diesel fumes. Truckers, shipping professionals,industrial workers and any others in the U.S. that have received prolonged exposure to toxic fumes are encouraged to contact their experienced attorneys right away.
Toxins contained within diesel fumes has been linked to the following health complications:

Lung Cancer
Respiratory Complications
Heart Disease
Strokes
According to the site, long haul truckers, dockworkers and short haul drivers are at special risk because of their exposure levels.
"Our experienced diesel fume exposure attorneys are here to help trucking professionals achieve justice, providing much needed support when good people are facing medical problems as a result of their exposure," stated Don Worley, lead attorney with the firm.
In addition, the EPA came out in 2002 with a report that stated there was a correlation between exposure to diesel toxin found in the fumes and the incidence of cancer.
Engine manufacturers claimed the increased risks are only present with older engines, the EPA was able to refute this and their evidence pointed to increased risk regardless of the age of the engine.
If one experienced long term exposure to diesel toxins and experienced respiratory problems, they are encouraged to contact the experienced attorneys with McDonaldWorley.com immediately.
People who suffered exposure related problems could be entitled to significant compensation that can help with medical bills and related expenses.
About McDonaldWorley.com:
The injury law firm of McDonald Worley P.C. is based in Houston, Texas but accepts clients nationally. The experienced attorneys in the firm include a former ICU nurse turned lawyer with a solid understanding of the medical field. In addition to the diesel fume exposure, the firm helps people involved in semi truck accidents in addition to toxic exposure and industrial accident injury claims.
Contact:
Don Worley, Lead Attorney
Phone: (713) 523-5500
http://www.mcdonaldworley.com