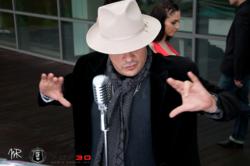 "Dutch Franklin is Art, Music And Fashion" -Masha Rechman
(PRWEB) July 21, 2012
Russian Model Masha Rechman partners up with recording artist Dutch Franklin to launch their new recording flagship label 70/30 Music Group Inc. to be distributed thru Fontana/Universal. Masha was quoted saying" I'm very happy to be able to have an opportunity like this within the music industry, which has always been a great passion of mine, I believe Fashion and Entertainment goes hand in hand" Masha Rechman is a model originally from Astrakhan, Russia which is known to be the capital of Beluga Caviar, it's claim to be one of the best caviar's in the Caspian Sea and Black Sea basin, but partially banned in the United States in 2005 because of the Beluga Sturgeon is considered to be critically endangered. Masha Rechman is fashion model, record label exec and entrepreneur. In the mid 2000's Masha became an icon in the fashion world in Russia, for independent designer's building fashion brands throughout Russian City's, although those labels are now defunct, Masha decided to build her own line of clothing and accessories from her "hands on" experience she picked up, while she was on the road which is dedicated to the "middle class woman" being from a middle class family background herself (Launch Scheduled 2013).
EARLY LIFE: Masha Rechman attended modeling school at Flima Academy in Astrakhan, Russia and then decided to go to finish her studies in the United States majoring in Hospitality Management and Psychology. Masha also holds Bachelors in International Business And Fashion Design.
Back home: Masha's parents were never too keen on sending the young elusive model to the United States, but her passion for the business grew as American television had a huge impact on the building of her Entrepreneurial ambition. "I've always loved the freedom of the press, education and opportunity that can be achieved in the United States only if you're willing to put in the work…so here I am" While attending college Masha also attended a 12 month coarse at the International Academy of Design, further educating herself in Fashion, Marketing, Music Production and Film Editing. Saying" I just love Entertainment, so I set out to understand the different aspects of the industry instead of just wanting to do modeling? Models come and go, and the competition levels are incredible…so I knew that what I wanted to be was an Entrepreneur in the Entertainment and Fashion world while accomplishing my modeling career as well"
Masha's and Dutch's current schedule is ready for launch for 2012 which is fully booked for many fashion events and musical unions towards their own branding of the 70/30 Music Group Inc. Masha said -" I personally interviewed Mr. Franklin myself at a music showcase in London back in 2009 For a European Publication and fell in love with his vision of Music and Business" After some short negotiations Masha's privately held company and Dutch Franklin & Co. decided on a venture with their own imprint 70/30 Music Group Inc. - Dutch Franklin was Quoted saying" It's a great time for the entertainment and fashion industries to join forces and do great things together because the world as we know it has begun to shrunk in a big way" Dutch Franklin the Executive, Producer, Composer, Arranger and Song writer has many credited hit records in the Alternative, Dance and Pop genres of today's market. Dutch Franklin's ability to work amongst the greatest musical minds of our time has vastly expanded throughout Japan, Korea, Hong Kong and European markets and for the first time these two combined will attempt to make some head room in today's world music markets while achieving their targeted goals.
Written by: Brian Slashcknicov European PR- 70/30 Music Group Division II
WGA: Mayfair House-Mayfair London W1
Tel: 0207 043 1103 Fax: 0207 043 1104
US Offices: (786) 254-7165
2520 Coral Way Suite 2-400 Miami Fl 33145
http://www.MASHARECHMAN.COM
http://www.DUTCHFRANKLIN.COM
http://www.7030MUSICGROUP.COM