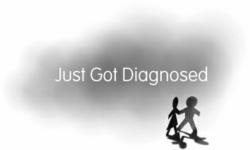 New York, NY (PRWEB) July 25, 2012
Dr. Gary McClain today released a new article, "Living with the Unwanted Houseguest,"for individuals facing chronic medical conditions. A specialist in the emotional and spiritual impact of chronic and catastrophic illnesses, Gary McClain, PhD, developed http://www.JustGotDiagnosed.com to address a serious need he saw going unfulfilled; namely, a way for newly-diagnosed patients to receive help in coping with their emotional reactions to their diagnosis. Dr. McClain also blogs on the patient social networking site, http://www.AllianceHealth.com.
According to McClain, "chronic conditions such as arthritis and diabetes are like an unwanted houseguest who has taken up residence on your living room couch. Who makes demands, interferes with routines, complicates your relationships, costs you money, does scary things at times… and won't move out. You've tried everything, you've tried to ignore him, you've had arguments, you've threatened, you've begged and pleaded. But he's still there, blasting the TV and demanding breakfast in bed."
McClain describes adjusting to chronic illness as a process of learning to live with the unwanted houseguest. "At some point, you decide that since he doesn't seem to be going away, you may as well join the resistance. Stop fighting and learn to live with him. You decide to understand him and therefore understand what you can to keep him in his place. But not to go through each day with your fists clenched and ready to swing. In other words: moving from 'You've ruined my life forever' toward 'How would you like those eggs cooked?'
McClain recommends that patients learn to coexist with their chronic condition – to live life on life's terms – based on the following guidelines:
1. Know when to retreat. Rest when you need to rest. Cut back on activities when your body isn't up to the challenge. Set priorities, so that you don't end up being your own opponent.
2. Make adjustments in your expectations for yourself. You decide between what's essential, what's not, and where your ego has been driving you like a taskmaster.
3. Don't fight with your own feelings. Let yourself feel how you feel.
4. Recognize stress and address it. Learn some ways to relax and stay calm.
5. Stay educated. Working with your opponent means knowing as you can about him.
6. Get emotional and spiritual support. Be ready to call in the troops for backup when the battle fatigue sets in.
McClain emphasizes that the unwanted houseguest can be kept in his place. "Face your chronic condition from a position of competence, calmness, and strength. Stay focused on what can do to take the best possible care of yourself, day by day. Balance is power!"
About Dr. Gary McClain and JustGotDiagnosed.com
Dr. Gary McClain is a therapist, educator, life coach and author who specializes in working with individuals who have been diagnosed with chronic and catastrophic medical conditions, focusing on issues that include coping emotionally, gathering information, making lifestyle and treatment decisions, managing relationships, and communicating with healthcare professionals. As "Dr. Gary," he blogs on patient social networking boards on AllianceHealth.com. Founded and developed by Dr. McClain, JustGotDiagnosed.com offers information, guidance and inspiration for newly diagnosed patients, their caregivers, and healthcare professionals. His program for newly-diagnosed patients, Prepared for the Road Ahead ™, is focused on the emotional, lifestyle management, communications, and vision for the future. Visit JustGotDiagnosed.com.