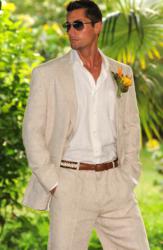 Relax, the wrinkles are free.
Las Vegas, NV, 23th July 2012 (PRWEB) July 23, 2012
Trusted online store for premium linen apparel Justlinen.com has been remodeled to announce the launch of an exciting range of 100% linen clothing collection by the company. Justlinen is already the most preferred online shopping destination for the style conscious men and women around the world looking for classic style and the finest quality of linen apparel. The new collection includes a wide array of clothing suited for all occasions, including shirts, suits, pants, and wedding attire. Linen Jersey Maxi Dresses made from 100 % knitted, super soft linen jersey would also be available. These elegant dresses are designed to fit perfectly for a smart look. Linen dresses would also be available in customized designs according to the specific requirements of the customers, and the company would come up with new styles every month.
With the introduction of this new collection, Justlinen has become the first ever online store to offer 100% linen apparel throughout the year. Tropical destinations have become one of the most preferred vacation spots for travelers around the year. The light weight and affordable linen clothes from Justlinen are perfectly suited for vacation seekers looking for the real flavor of tropical island life. Being a seasonal fabric, finding top quality linen throughout the year is not an easy job. Justlinen stocks the finest quality of linen all over the year from reputed designers like Ralph Lauren, Calvin Klein, Haspel, Inserch, and many more. The exquisite range of linen apparel from Justlinen is shipped all over the world within affordable rates.
The comprehensive online store of Justlinen not only offers the greatest range of linen clothing for all occasions, it also offers excellent linen specials and discount codes to buyers. There is also a blog section to keep them informed about the latest products from Justlinen. Talking about the universal appeal of linen, the owner of Justlinen G. Testamark says, "Natural fibers are the next big thing in fashion, but linen has always been big. This is something that's timeless, enduring, and would never go out of style. Everyone makes linen clothing, but they miss the point. It's not a job, it's a passion".
About the Company: Justlinen is the most authentic virtual store for premium quality linen apparels. The company has just come up with an excellent collection of 100% linen clothing for men and women. With the launch of their new apparel range, the company has also remodeled their website. Look for the Justlinen Collection in stores for Spring 2013.