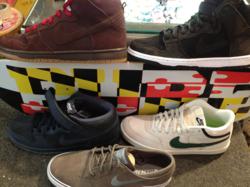 July has proven to be the hottest month and we are not talking about the weather
Annapolis, Md (PRWEB) July 22, 2012
July could be hands down the hottest month for Nike SB, with 2 quickstrikes dropping, a hyperstrike, new models and the strap is back on the Dunk Mids, July has proven to be the hottest month and we are not talking about the weather.
To sneaker heads delight Nike SB puts the strap back on the Dunk Mids with the first one being comprised of suede and a textured leather and shades of navy and black with a light blue sole that makes the shoe pop.
Along with the excitement of the Mids getting the strap Nike SB is also introducing the Challenger Court with a Lunarlon insole. The Challenger consists of a tones of white suede toe and mesh side panels along with a dark green leather check makes the shoe have an overall clean style that still has pop.
Having a new shoe and putting the straps back wasn't enough for Nike SB, they had to go above and beyond with 2 quickstrikes and a hyperstrike for the month of July. The first quickstrike was part of the "beer bottle pack." Modeled after a Budweiser bottle, the shoe is made of brown suede all the way to the top and pops with red laces, white tongue and an American flag as the tongue tag.
With the "beer bottle pack" kicking off this month, Pure Boardshop is welcoming a very hyped shoe, the Pushead 2's. The first Pushead came out in 2005 and were an instant hit and now the Pushead 2's are living to the hype. Pure Board Shop is still waiting for there shipment of the Pushead 2's and are expecting them to be at the store by mid next week.
Along with two quickstrikes Nike SB is releasing a hyperstrike which is a colab between Nike SB and Supreme which takes the cake as the most hyped shoe and sold out in 15 seconds.
Along with all this Pure Boardshop also brought in a Dunk High which features a subtle canvas camo overlay with a black suede underlay and a Janoski with a grey suede and light grey check which makes a very clean simple shoe going into fall.